This week I attended the 2nd edition of Meet Magento Sweden with over 200 Magento merchants, developers, ecommerce experts and industry partners. I was very impressed about the high level of the Swedish ecommerce market.
When you talk about the ecommerce industry in Europe, almost every time it's about the industry, or certain players, from countries such as the United Kingdom, France or Germany. But many people forget to mention Sweden. The Nordic country is absolutely a great place to run your ecommerce business. And here's why.
Forbes says Sweden is the #1 country for business
Let's begin with stating the obvious why Sweden is the best country for doing online business. Because it just is the best country for business. It ranked number one on Forbes' annual list of the best countries for business. With a GDP growth of 4.2 percent, a GDP per capita worth over 50.000 dollars and a trade balance/GDP of 5.2 percent, Sweden is performing very well. For comparison: the UK ranked fifth, while Germany and France respectively ended at the 21st and 26th place on the list.
IKEA, H&M and Volvo are all Swedish
Sweden is home to some well-known brands. There's of course IKEA, Acne Studios, H&M and Volvo, but did you know home appliance manufacturer Electrolux and telecom supplier Ericsson are also from here? And what about Skype and Spotify, two online household names. And if you are one of the many people who are addicted to Candy Crush, you should know it's made by the Swedish company King Digital Entertainment. Minecraft, another very popular game all around the globe, was also made in Sweden.
Sweden is climbing up the list!
Sweden also ranks high on another list, the Global Competitiveness Report, which assesses the competitiveness landscape of 138 economies. And although Switzerland, Singapore and the US remain the three world's most competitive economies, in 2016-2017 Sweden ended on the sixth place just before the Netherlands and Germany. The year before, the Nordic country ranked ninth. The improvement in ranking is thanks to a better macroeconomic environment, a significant decrease of its deficit and a high employment rate, with a high level of women's participation in the workforce.
Women are well represented
And as we already talk about women, Sweden has really good gender equality. The country is one of the top countries on the Global Gender Gap Index from the World Economic Forum. This index looks at the relative gaps between women and men across four areas: health, educations, economy and politics. Sweden has closed over 81 percent of its overall gender gap, partly thanks to an increase in female legislators, senior officials and managers.
Sweden takes M-Commerce very serious
This is one of my favorite reasons, being a mobile enthusiast… Sweden takes mobile commerce very serious, so during Meet Magento Sweden mobile was a hot topic. One of the talks that inspired me the most was from PJ Utsi, the co-founder & Chief Creative Officer of Vaimo. Vaimo is one of the biggest Magento Solution Partners in Sweden and helps big international brands like Filippa K, Bjorn Borg and Gant grow their business. So hearing PJ say that a lot of retailers still make the mistake of seeing mobile as a separate channel, was music to my ears.
During his talk about current trends & tactics within the Swedish and international ecommerce market, he mentioned 3 top trends:
One of the key takeaways for me was that PJ says many retailers still underestimate mobile, even though our mobile device is always with us and it's totally integrated within our lives. It's there when we wake up and when go to sleep. It's in stores, on your desk at work, on the bus and on the beach. We take our device with us wherever we go. This means mobile is the device that connects the dots in the whole customer journey. Any e-merchant that looks at their analytics and sees mobile accounts for more than 20% should respond to that.
PJ says a responsive website is great for branding, attracting more people to your website and making sure these visitors can browse and buy the things they like easily. A well-designed native mobile app will make sure these first-time buyers will become long-term customers. Features like push messages have an open rate of 90% and will make customers return twice as fast within 30 days compared to your mobile website. Due to an easier checkout, mobile apps drive more people through the purchase funnel. So investing in both a mobile site and a mobile app is one of the most important to-do's for 2017.
Retailers should look at their omnichannel, which explains what is going on between devices.  They should interpret these metrics to get shoppers to convert. All devices – desktop, tablet, smartphone – are equally important and are all part of one buying journey.
And finally some other fun business facts…
Okay, enough about mobile. Here are some other cool facts about why you should do business in Sweden, coming from a new fan of the country:
When you are doing business, many times you have to deal with the public sector. And then it's good to know that Sweden has a low level of corruption and even ranks fourth in the Corruption Perceptions Index from Transparency International. Still not tired of seeing Sweden performing well in different rankings? Well, I have another one for you. According to the European Commission, the country is one of the leaders in Europe when it comes to innovation. Sweden performs well above the European average and leads in human resources and the quality of academic research.
So, as you may have noticed by now, Sweden is a great place to have your business. What also helps, is the fact Sweden has the second most powerful passport in the world. Only in Germany, inhabitants have access to more countries. And Sweden ranks third in the Global AgeWatch Index of 2015, which measures the quality of life for older people. So, it's also a great place to grow old after you have successfully sold your business…
Rounding up: Sweden is great for women, entrepreneurs, old people and mobile enthusiasts! Rock on, Sweden!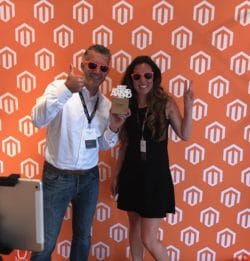 Launch your app with JMango360 and get support
At JMango360 your mobile success is our responsibility. In just 4 weeks time, we'll design and launch a PWA or native app that reflects your brand and puts your customers first. But adding an app as extra revenue channel is not a 'launch and they will find me' project. That's why we continue where others stop. Our app marketing support team will make your app results their priority. With best practices, templates, full support of experts and monthly app marketing calls you'll be maximizing your app results in no time!
Plan a strategy call to discuss your goals and needs.
Creating your own mobile commerce app is easy Let us show you what your app will look like