Trusted by Big Brands

Affordable

for Everyone

Let's discuss your business needs and get a quote of our

'App-As-A-Service'

. We will show what a superior mobile experience can do for your company.
Pay-As-You-Grow
We offer predictable pricing that is unique to your growth stage based on a monthly fee.
JMango360 Apps have an average rating of 4.8 out of 5 stars
What's user experience got to do with conversions? Everything! The smoother the customer experience, the more likely people will come back to your store. Our apps don't cut down on user experience. In fact, Jmango360 apps have an average rating of 4.8 out of 5 in all App stores according to the end-users.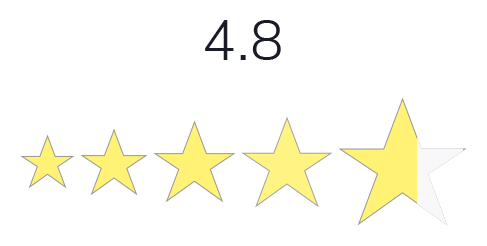 FAQ
Do I need to install the JMango360 plugin myself?
The plugin installation is easy, so you can do it yourself or have your Solution Provider assist you. By signing up to our platform the quick start will show you how to install the plugin.
What happens to my app when my new iOS or my Android OS version is launched?
Our team of app developers are constantly making improvements to the apps, by adding new features for free and updating the app for the latest versions. So don't worry, you can just sit-back and relax with any new updates.
Are there additional costs?
If you want to publish your app into the app stores, Google and Apple charge you for creating the developers accounts. For each of the stores you'll need to create your own developer account. Google Play Developer license is $25 one-time fee and Apple developer license costs $99 per year to be able to publish the app under your company name.
I'm changing my e-commerce platform, what about my App?
If you change your e-commerce platform the backend changes and that means we have to build a new App with the associated onboarding fees. If you already have an App you could of course use your existing design.
 The new App integrated with your new e-commerce platform can be distributed to your existing App users as an update of your existing app. In this way you keep your downloads and existing App users. 
 There are three App migration approaches:
     

Sequential

     

Postponed website go-live

     

Parallel
Tip: Inform you clients via push messages and a banner in the App about the migration and what you expect them to do. You want to make sure that your current users do not remove your App from their mobile.  
Push message examples:
     

In preparation and/or during downtime of the App: "We're currently developing a brand-new App. Don't remove it! Once it's ready you receive an update in the App Store"

     

Once the new App is live: "Our new App is now available! Install the App update available in the App Store.
How much time do I need to invest during the setup?
If you let us build the app for you, all you have to do is install the plugin, send us some additional images for your homescreen and review our designs.
When do I start paying for my app?
To let us build, design, test and publish your app you will pay a one-time setup fee. After that you will pay a monthly fee once your app has been launched. There are some interesting financial benefits when you decide to pay an year (or longer) in advance.
Which ecommerce platforms do you support?
We have a deep integration with Magento (both Commerce and Open Source), Prestashop, Lightspeed and BigCommerce. For all other E-Commerce platforms we are open for discussion.
Do I need a seperate Payment Service Provider for the app?
No. Our plugin will automatically detect and use the Payment Gateway integrated with your online store,  including (but not limited to) PayPal, Adyen, MultisafePay, Klarna, AsiaPay and BrainTree. JMango360 supports all payment methods that these providers support, including (but not limited to) creditcards, iDeal, direct debit, ELV, PayPal, Klarna and Afterpay.
Ready to maximize your mobile results? Find out how an app can enhance your business.
Request more information