Is investing in a Progressive Web App (PWA) for your ecommerce store worth the effort, or are native apps still the way to go? And where does it leave your responsive site?
It's 2018 and a lot has changed in the way consumers search and buy products. If you want to run a successful ecommerce store, you must cater to your mobile users.
Not doing so, simply means ignoring a majority of your potential customers. But ecommerce business owners nowadays, are faced with a lot of options. You can either optimize your responsive site, invest in a native app or launch a PWA for your ecommerce.
A lot has been written about PWAs for ecommerce lately. Is it time to abandon your responsive design and jump on the PWA train? Or is a native app still the best option? If you haven't made your move, the following advice will help you make the right decision.
What are PWAs, exactly? PWA stands for Progressive Web App. PWAs were developed about three years ago by web giant Google with the goal to deliver a native app-like experience on the internet. Therefore, PWAs mix the benefits of both apps and the mobile web.
Users can navigate to a PWA from any browser and get an app-like experience, but they don't need to download the PWA in an app store like they do native apps. They're also simpler to build than native apps, which makes Progressive Web Apps easier to develop for smaller businesses.
It seems like PWAs are the answer to all our problems, right? They offer better user experiences than responsive sites and they are more accessible via web browsers.
But are they really that great? Where PWA is Google's baby, native apps are a big cash cow of Apple. To prevent users from abandoning the App Stores completely, important features of PWAs are impossible for iPhone users. Just like native apps, PWA's have a lot of benefits but also some challenges.
To figure out whether your ecommerce store needs a responsive design, a PWA or native app, we break down the differences below.
PWA versus Responsive site for ecommerce
A Responsive Web Design (RWD) makes sure a website can be accessed, is fully functional (and looks good) no matter what size screen the user has in front of them. It's been around since 2001 and since then, RWD has become basically a requirement for new sites. Will PWAs become that new standard?
Compared to responsive sites, PWAs have a lot of pros:
Speed:

Responsive sites depend on internet connection and data can't be stored offline. Therefore, responsive sites tend to be much slower than PWAs or apps.

With

PWAs, parts of the content can be stored locally on the users phone and used offline. This makes PWAs quicker and more reliable than responsive sites.
Navigation:

 The navigation of PWAs resembles native apps, and therefore the user experience of PWAs versus responsive design is much better.
Accessibility:

Both PWAs and responsive sites are accessible via search engines, but a good quality PWA can be launched in the Google Playstore, too. (Note: just via Playstore, not via Apple App Store. See native versus PWA explanation).
App Icon:

What makes PWAs even more accessible, is that Android users can save the web app on their home-screen with an app icon, just like they can do with native apps. Again, for Apple users this is different.

(s

ee PWA versus native app for further explanation).
Payments:

Traditional checkout forms within responsive designs are repetitive and not always touch or user-friendly. Through a Payment Request API, PWAs have more payment possibilities and can provide users with a consistent UI.  
Push messages: Both responsive sites and PWAs can send push notifications, but both of them are limited. Both 'web push notifications' and PWA notifications can only send messages to Android, iOS is not supported.
With all these benefits, is it fair to say you can replace your responsive site with a PWA? The answer is no, not yet at least.
89% of buyers start their buying process within search engines, so being found on the web is very important. And as far as Google states, PWAs don't have any influence on SEO:
PWAs currently don't have any advantage in Google Search and as far as I know, there are no plans to change this.

– John Mueller, Google
Replacing your responsive website with a PWA means deleting the online presence that you and your team have carefully built up over the last years. In the basis, PWAs are still 'just' a Javascript-framework.
Responsive websites are needed for your search marketing activities. So PWAs are an extra, not a replacement of your responsive site.
PWAs and native apps have higher conversion rate
That being said, if you want to stay ahead of competitors in 2018 and onwards, you need to offer consumers a fast, easy and seamless mobile shopping experience and a responsive site alone just won't do anymore.
Research shows that both native apps and PWAs have a much higher conversion rate than responsive sites. For instance, Criteo research shows that the conversion rate of native apps is 3 times higher than responsive sites.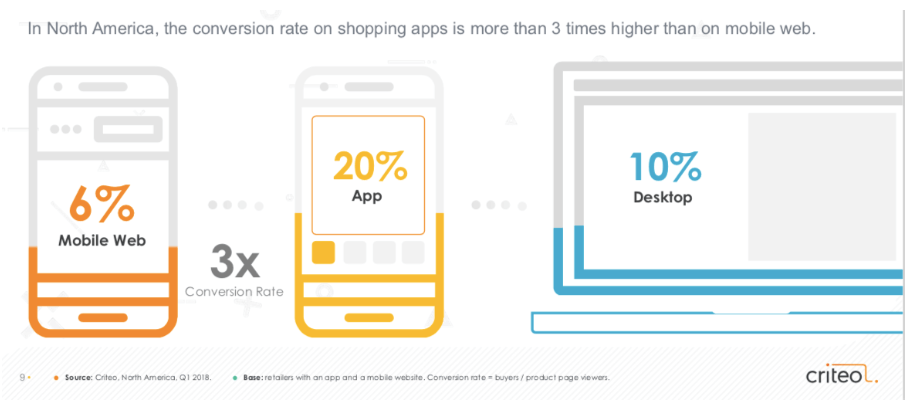 And Google has also calculated that PWAs can boost revenue up to 20%. When a webstore has a revenue of 20 million a year, Google calculated it's loss in revenue: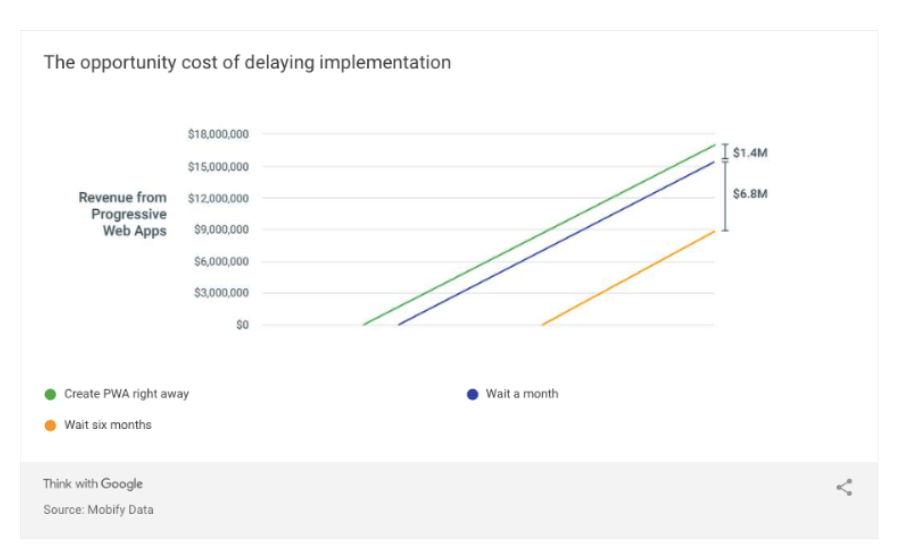 And this doesn't include losing customer to competitors due to a bad mobile performance.
So, you need an app (either PWA or native) in addition to your responsive design to cater to your mobile customers. But what to pick, a native app or PWA?
PWA versus native app for ecommerce
Both native apps and PWAs have their pros and cons, so it depends on your business and size what will be the best pick for your ecommerce store. A native app is written to run on the device of the user, so it can make full use of all the features a smartphone has to offer.
Native apps need to be downloaded in an App Store, which has advantages and disadvantages (see below). PWAs eliminate this step, but also lack a few important features for iPhone users. Let's dive deeper into the pros and cons.
Pros of PWAs versus native app:
Easy accessible:

A big advantage of PWAs over native apps is that they are accessible for anyone using a web browser. Users don't need to download PWAs in an App Store, which eliminates an extra step for users.
Independent from App Stores:

PWAs can be launched independently, without a third party like Apple App Store reviewing the app. Because selling 'adult' products is not allowed in App Stores, PWAs are a great solution for online stores selling adult products like vape, alcohol and sex shops.
Always up-to-date:

Updates for PWAs are done automatically.
Easy development:

PWAs are (a bit) cheaper, faster and easier in development than native apps.
Indexable:

PWAs have indexable and shareable URLs.
Cons of PWAs versus native app:
Remember we told you PWA is Googles' baby and native apps are a big cash cow of Apple? Therefore PWAs lack some important features compared to native apps.
No iOS Push notifications:

Research shows push messages have a big influence on retention and conversion for ecommerce store owners. Yet, with PWAs push notifications are only available for Android users. And as iPhone users are the big spenders within ecommerce, it could be a deal-breaker for some store owners.

No easy iOS install:

Installing a PWA for iOS users is one of the biggest challenges, because there is no invitation via a web app banner to the app store.

So the user has to go to your PWA URL somehow within Safari and then manually press the Share icon and then "Add to Home Screen." There will be no indication that a website you are visiting is a PWA.
Limited data-storage:

And when the iOS user does install the PWA on his home-screen, the offline data will only be stored for no more than two weeks. After this, the cache will be cleared.

Limited features:

In addition to push notifications, PWAs also lack some other important features on iOS that can be relevant for ecommerce store owners, like GEO-fencing and Siri-integration.

No SEO advantages:

Native apps have an advantage over PWAs as far as SEO goes. Through app-indexing, your app content can be shown in Google search results. Plus, with billions of users searching within App Stores, a native app opens up a whole new market of possible customers.
No direct download: In addition to the fact that native apps have positive influence on SEO, you can also download a native app directly from Google Search results. This is still limited for PWAs.
There is no right or wrong when choosing between PWA or native apps. The most important thing is that it suits your business and business size.
If you want to go for the best user experience, want to send out push messages to iOS users too, and you have a bigger budget, a native app will be your best pick.
Native apps still offer the best user experience and the fact that all users (iOS & Android) can receive push messages, will have positive impact on your app-revenue and conversion.
But if your budget is limited or if you sell adult products, go for PWA. PWAs can be developed a bit faster.  Therefore are a bit cheaper. Especially for smaller ecommerce businesses this could be an outcome.
First step is to analyze whether or not your buyers are iOS users, because PWAs are still limited for Apple. Due to the fact that you don't need to publish a PWA in an App Store, ecommerce stores that sell adult products are better of developing a PWA.
Launch your app with JMango360 and get support
At JMango360 your mobile success is our responsibility. In just 4 weeks time, we'll design and launch a PWA or native app that reflects your brand and puts your customers first. But adding an app as extra revenue channel is not a 'launch and they will find me' project. That's why we continue where others stop. Our app marketing support team will make your app results their priority. With best practices, templates, full support of experts and monthly app marketing calls you'll be maximizing your app results in no time!
Ready to maximize your mobile results? Find out how an app can enhance your business.
Request more information