In the US alone, mobile commerce generated $431 billion in 2022. And, it continues to grow. Mobile commerce is expected to reach $4.5 trillion in sales and account for almost 70% of total retail e-commerce by 2024.
Brands need to be where their customers shop or risk falling behind and losing business to companies that have greater mobile visibility and offer a better user experience.
Let's dive into the numbers and explore how you can effectively compete for more mobile business.
What is m-commerce?
Mobile commerce, also known as m-commerce, is e-commerce that takes place on smartphones and tablets. It makes up a significant percentage of e-commerce sales.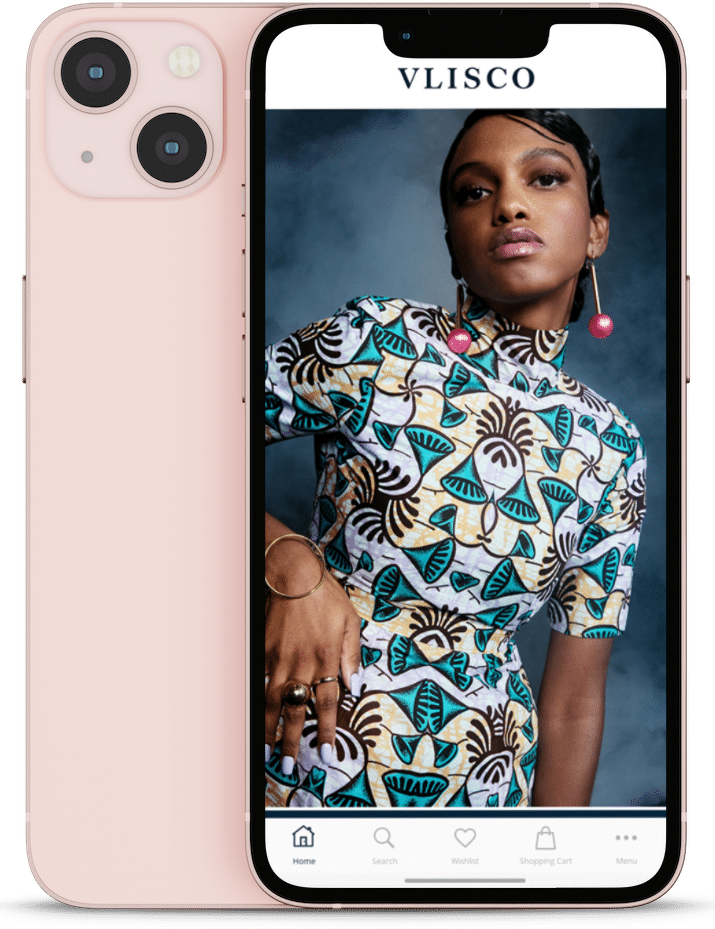 Mobile traffic in e-commerce is currently 65%
Since 2016, m-commerce has seen an average increase of 33.8% each year, the biggest growth rate of all channels. That's why it makes sense to optimize your brand's mobile site and apps.
Although stats do vary, let's take a look at current sales in e-commerce, and the outlook for the future.
Insider Intelligence estimates that retail m-commerce sales will be 43% of total e-commerce sales by the end of 2023. And according to SalesCycle it's more like a whopping 53% of sales that take place on mobile.
And the growth doesn't stop there. In 2024, they're expected to reach $4.5 trillion, about 70% of total retail e-commerce sales.
In 2025, m-commerce sales are projected to exceed $710 billion In the US alone.
The takeaway? M-commerce sales are growing day by day, so it's important to make sure your brand can compete.
90% of mobile time is spent in apps
The average US consumer spends 5 hours a day on their mobile phone. Much of that time is spent in apps. In fact, online shoppers in eight major markets including the US, Indonesia, and Brazil spend over five hours a day using apps alone.
In 2021, time spent in shopping apps was 100 billion hours worldwide.
76% of consumers shop on mobile because it saves time
Shopping on the go with a well-designed app is quicker. And since time-saving is a big concern, savvy business owners stress speed in shaping their customers' mobile shopping experience.
Make sure the experience is straightforward; offer pay-on-the-go options with easy checkout, search tools, and intuitive navigation.
What would have been considered normal in 2020, like going to the next room to find a credit card, might result in cart abandonment today. Make the process quick and seamless, and your customers will reward you with more mobile business.
Almost half (49%) of mobile users compare the pricing of products or services on their smartphones
Often, the first time a prospective customer visits your e-commerce site is on mobile. What kind of first impression will it make? If your pages load slowly or images are hard to see, they probably won't return.
If you want loyal customers, it's essential to provide a smooth experience on all devices.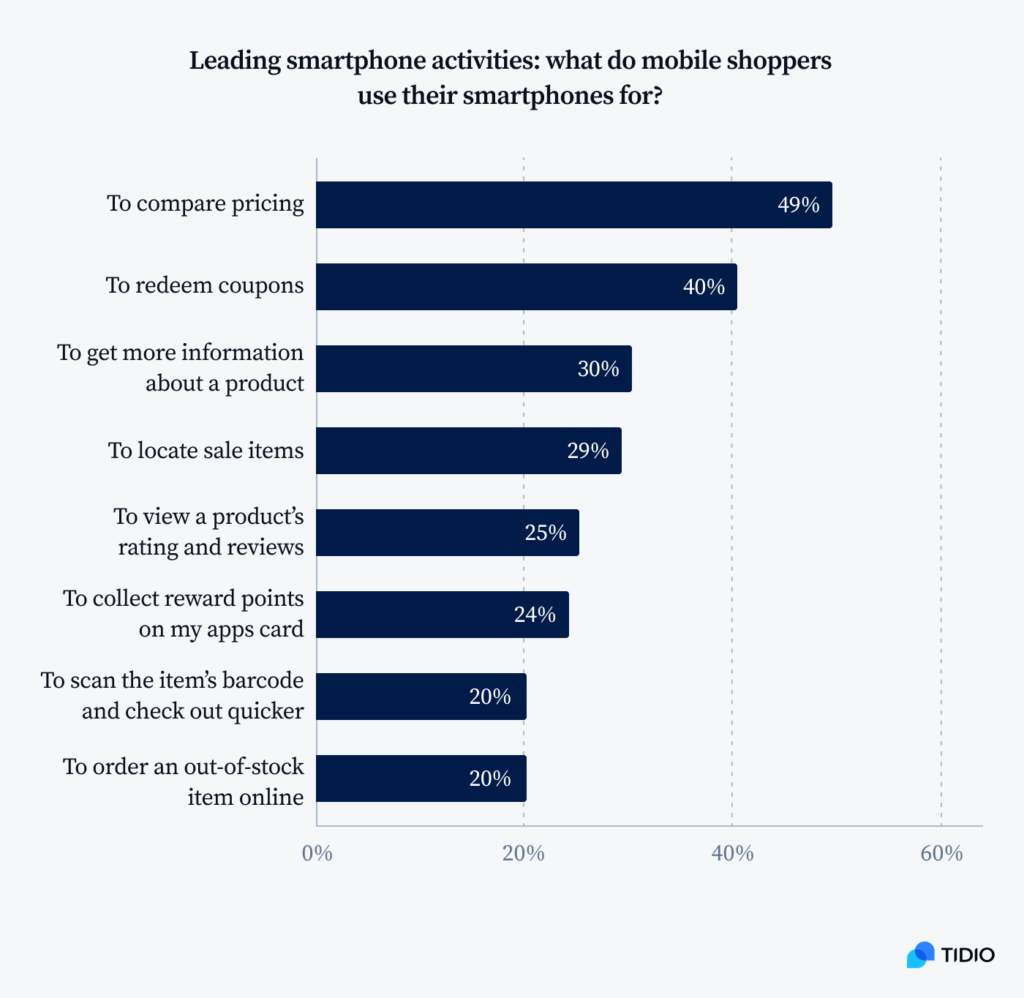 70% of mobile searches lead to action within an hour
Mobile shoppers reward smooth shopping experiences with quick buying decisions. They decide in an hour or less. On the other hand, desktop users can take up to a month. Impress your mobile visitors the moment they arrive and watch your m-commerce channel soar.
M-commerce is a critical part of the path to purchase
The conversion rate of online shoppers is still higher for desktop (3%) than mobile (2%), However, everything still begins with mobile.
We know that the conversion path usually starts on a smartphone. People like to browse the internet using their phone in search of a product. But some prefer to complete their purchase on their computer. Another factor is the mobile experience. You'll see from the next stat that people are still not satisfied with the whole mobile experience. And this leads to a higher bounce rate.
Even if some people prefer to buy on desktop, your mobile experience is the first one they will encounter. So, it needs to be on point.
On paper, it looks like the desktop experience "wins out" but, it's just not that simple. The first–arguably the most critical step–was made on mobile.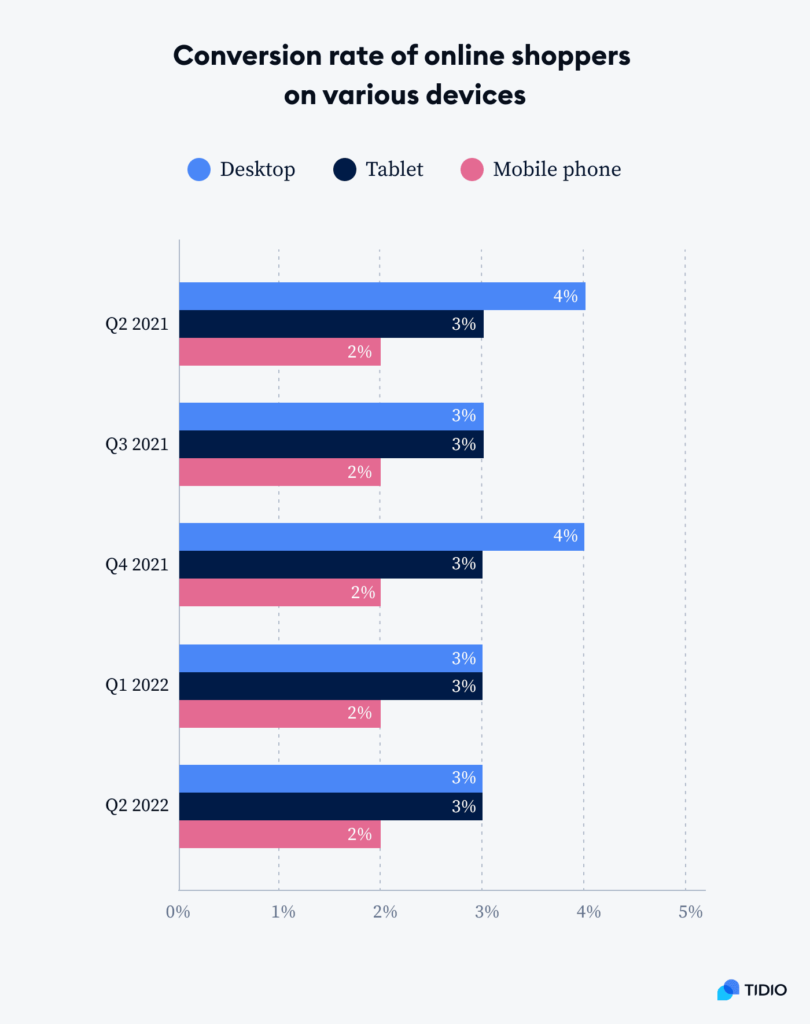 Consumers using larger screens are 31% more likely to complete orders on mobile
As smartphones and tablets grow larger. it's expected that m-commerce conversion rates will exceed traditional e-commerce.
Mobile responsive sites have the highest cart abandonment rate at 85%
Shopping cart abandonment is a major concern for e-commerce site owners. While the abandonment rate for desktop users is roughly 73%,
it's significantly higher at 85% for mobile users. In fact, people are more likely to abandon a shopping cart while using a smartphone than on any other device.
The reason? "Sites aren't optimized for mobile. The checkout experience is clunky and glitchy and leaves customers running," explains CreditDonkey. Robust mobile optimization is important for all aspects of e-commerce, but it's especially critical during checkout. It needs to be smooth and friction-free with no hiccups that could prevent shoppers from completing their purchase.
The average order value on a desktop is $40 higher than mobile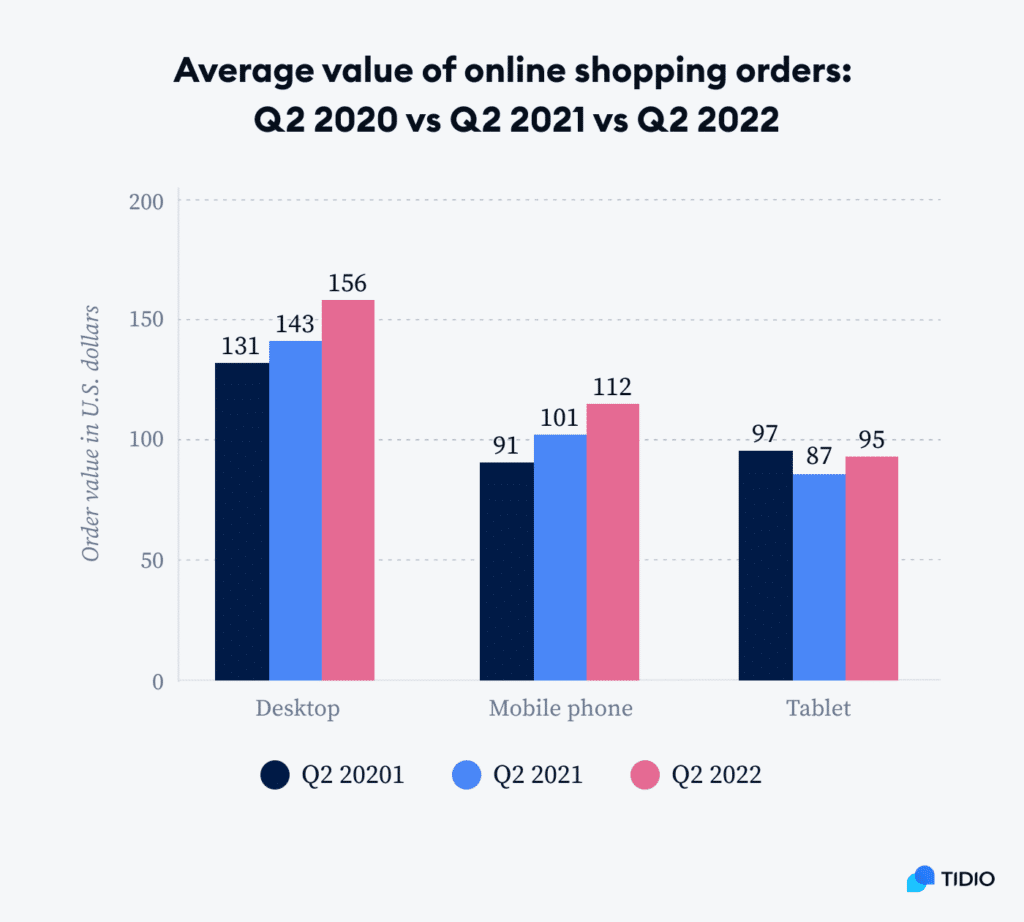 In a study of e-commerce sales between 2020 and 2022, the average value for desktop-generated orders was $155. M-commerce sales averaged just $112. The study determined that the lower conversion rate was likely due to a poor mobile shopping experience.
More than two-thirds of consumers say tiny pages, images, and links make mobile shopping difficult.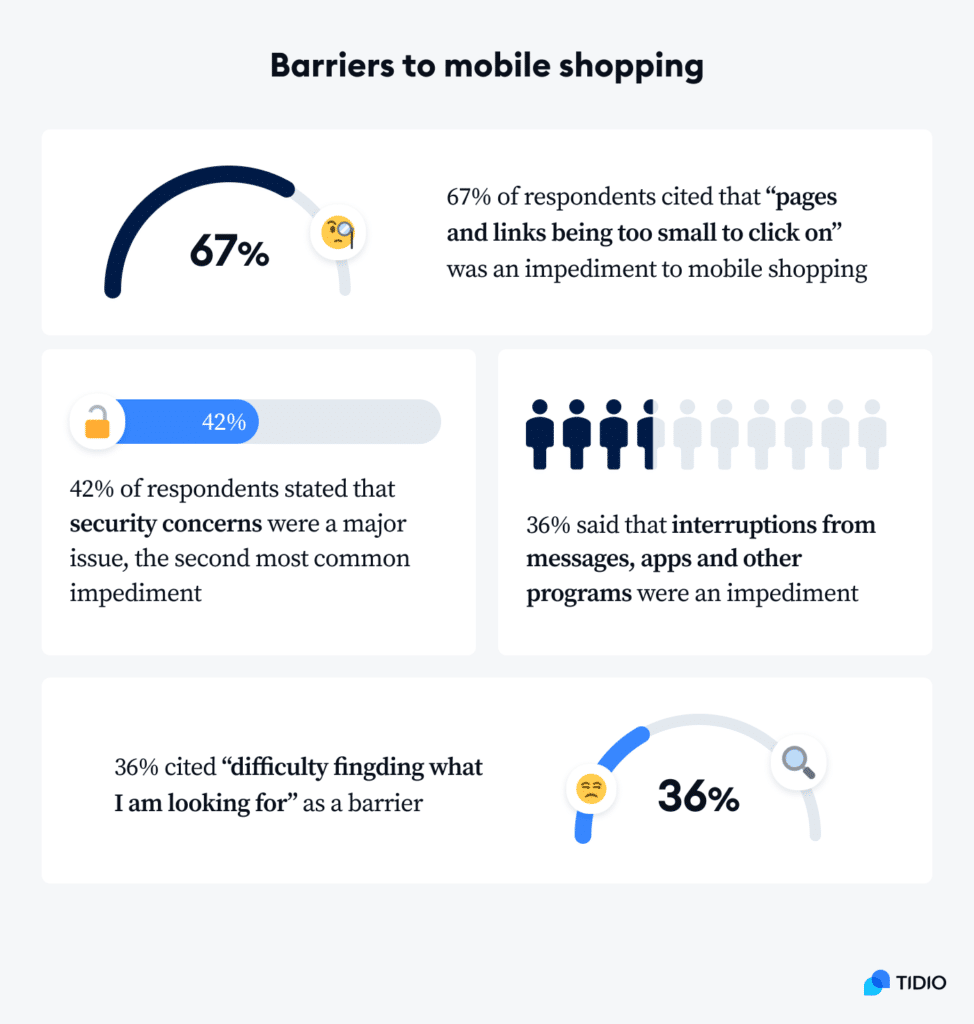 60% of buyers say transaction speed makes them more (or less) likely to buy
Time is of the essence, and slow mobile shopping experiences take a toll on conversions. When a mobile user is gripped by the impulse to buy, the checkout process needs to be fast and painless.
UX experts say web stores should aim for a maximum page load time of three seconds, and avoid a purchase journey with too many steps.
Too many obstacles and you risk losing shoppers as time and enthusiasm begin to fade. Research from Google says that if the mobile experience is substandard, 40% of shoppers will leave your site and never return.
35% said they'd abandoned a mobile site because they were required to create an account
29% said they'd abandoned an online purchase simply because the checkout took too long
Statista says 57% of shoppers like mobile apps better than any other channel
A well-designed mobile app offers shoppers more functionality and a simple checkout process. Your customers, especially Millennials and Gen Zers, expect that functionality and won't stick around without it.
78% of shoppers used retailers' apps while shopping in-store in the last year
You might assume in-person shoppers to brick-and-mortar stores and those accessing mobile sites are two different groups. However; 78% of shoppers with smartphones surveyed by Google Kantar reported using retailers' apps while in a store in the last year. Here are some reasons why they do it:
Comparison shopping
65% of consumers use mobile sites to comparison shop while they're in a retail store.
Product research
Shoppers can quickly find details about the products they're shopping for in apps.
Loyalty programs
Customers access their apps in-store looking for discounts, free shipping, and other perks. You'll see your customer retention and cross-channel sales improve when you deploy a smart mobile app that maximizes the shopping experience in-store and online.
Store maps
Shoppers can easily find the location of products in the store by checking the app.
Shopping apps have 3x to 4x higher conversion rates
If you compare shopping apps to the mobile web, they are the clear winner. Shopping app conversion rates are 3+ times higher than the mobile web.
Shopping apps have 2x higher retention rates
Not only do shopping apps have a higher conversion rate, but customers also stick around longer.
See criteo research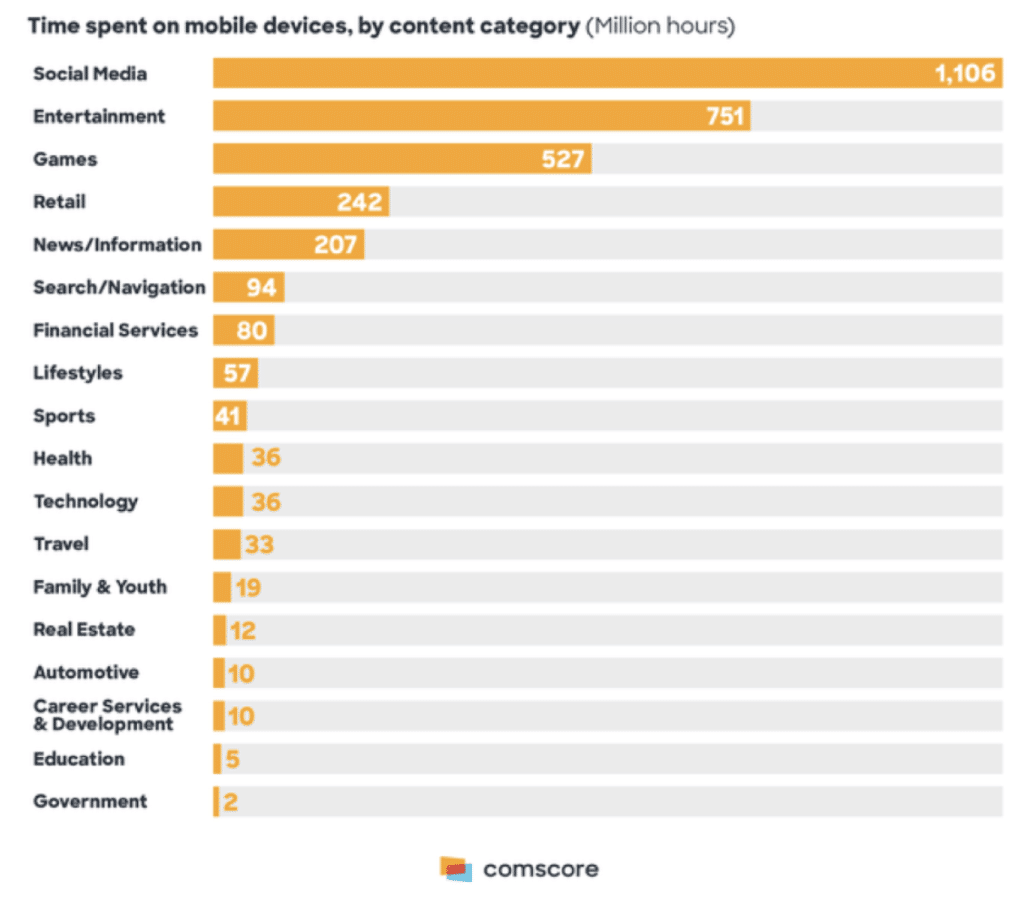 Raise your mobile game
Mobile is the fastest-growing online channel by far. Focusing on your customer's m-commerce experience is the number-one priority in building online sales.
Want to improve your mobile game?
Book a demo: we'll talk about mobile tactics for your site, and how a mobile shopping app can drive extra revenue and loyalty for your brand.
Also, check out the ROI calculator
https://jmango360.com/request-a-demo/
https://jmango360.com/native-app-roi-calculator/
More stories from J-Mango e-commerce