Return to blog
Title: Everything you need to know about improving your mobile conversion rate
4 juli 2023 · 5min
Smartphones are all around us. You've probably noticed when taking the subway – and you're also probably one of them… finding someone that's not checking their phone for the entire ride is rare. We use our mobile phones to check our social media accounts, watch YouTube, and read the latest news. We also use them to shop.
And this shows in the numbers. Not just in terms of hours spent online, but also regarding an individual's hour-by-hour buying behavior. Today, 60% of total web traffic comes from mobile devices. Mobile shoppers now account for more than half of your business. Given the increasingly important role that smartphones play in the e-commerce space, it's essential that you offer the best experiences for your mobile users. Research shows that a less optimal mobile experience actually influences how many people buy from your brand or will switch to your competitor.
Reason enough to dive into mobile conversion, right?
What is mobile conversion?
Mobile conversion describes the proportion of mobile visitors to your site (or users of your application) that complete a desired action. In order to find your mobile conversion rate, you simply need to divide the number of mobile visitors that completed a particular action by the number of mobile visitors that started that action.
Although the specific action that determines your mobile conversion rate could cover a range of things, such as signing up for a regular newsletter, in the e-commerce world, it is usually taken to mean the number of individuals that make a purchase.
For our purposes, therefore, the mobile conversion rate is the number of completed mobile sales divided by the total number of visitors to your app or mobile site. If you multiply the resultant figure by 100, you'll get a percentage that will tell you your mobile conversion rate.
What is the average conversion rate in e-commerce?
Despite surging sales in e-commerce, the conversion rate remains smaller than most might expect, with average e-commerce conversion rates hovering between 2.5 and 3%. But it's important to unpack this figure, breaking it down by device. While the global average e-commerce conversion rate may struggle to get above 3%, figures are generally higher among desktop and tablet devices than they are for mobile users. However, this is also where declines in the conversation rate are most pronounced.
Even though you can't compare the global rate one-to-one with your own business because it depends on market variables, it's clear that the average e-commerce conversion rate reveals a lot – namely, that many online visitors don't end up making a purchase. As such, the conversion rate on your site or app can tell you a great deal about your areas for improvement. For instance, are you deriving a lot of traffic but also seeing a high cart abandonment rate? This could indicate that your customer journey is in need of optimization.
Looking in greater detail still, the conversion rate differs significantly just among mobile shoppers – especially if they are shopping via their mobile browser or directly through an e-commerce app. Mobile apps boast a conversion rate comparable to or even higher than desktop and tablet devices – at around 4.5 to 5%. We'll dive a little deeper into why this is the case below.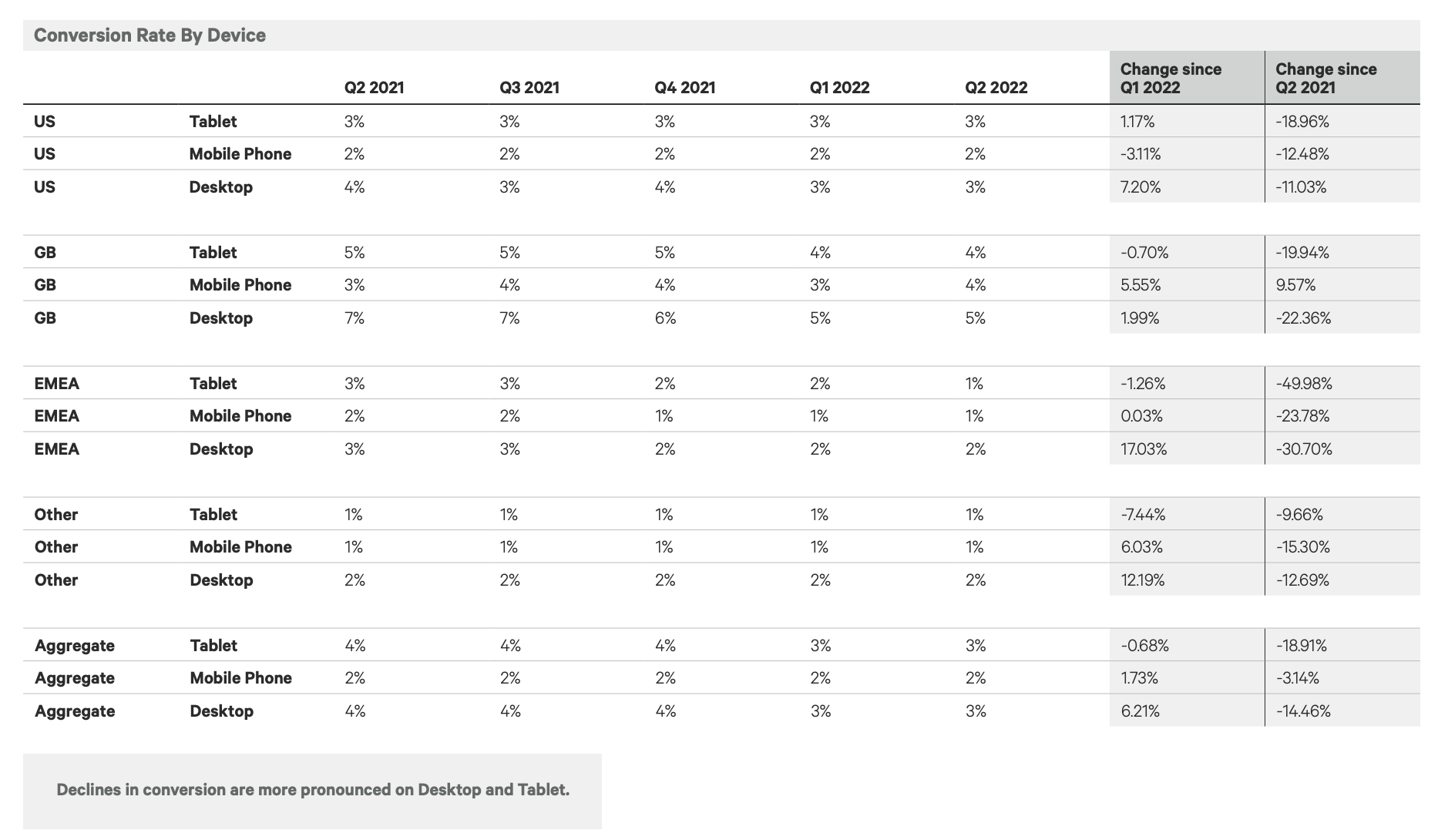 Why are mobile conversion rates lower than those for desktop devices?
Although figures vary, there is a general consensus that mobile conversion rates are lower than those found on desktop devices. Some studies of mobile conversion rates even put the figure as low as 1%. Given the ubiquity of smartphone use, this means that e-commerce outlets are potentially missing out on a huge number of sales.
The main reason why mobile conversion rates are so disappointing is that the experience of using a mobile site simply isn't optimal. Shopping can be a frustrating experience on the smaller screen, with mobile sites often slower and lacking some of the details to be found on larger devices.
The checkout process for mobile sites can also be more challenging. Entering the necessary details in order to complete a purchase can be much more time-consuming on a mobile device when compared with typing on a desktop. At times, it's a long-winded process pushing people to complete their purchases on a larger screen.
Research backs up the fact that mobile conversion is harmed by poor customer experiences. Almost half (47%) of respondents to a global survey confirmed that they would complete more purchases via their smartphones if "the browsing experience was easier or faster." This touches upon another factor – that some shoppers use mobile sites for different purposes than they do desktop ones. Some use mobile sites to browse but feel more comfortable completing a purchase via a desktop device. This is a hurdle that needs to be overcome if mobile conversion rates are to improve.
How can I improve my mobile conversion rate?
The number of individuals visiting e-commerce sites via mobile devices demonstrates the importance of increasing your mobile conversion rate. Don't underestimate how much even small tweaks can do for your conversion rate. And don't underestimate how much even a slight increase in your conversion rate can do for your ultimate revenue.
Fortunately, this is within your brand's grasp – you simply need to ensure that the customer experience for mobile visitors is optimized. We've listed eight ways you can achieve this below:
8 proven ways to boost your mobile conversion rate:
1. Make your buy buttons prominent
One of the main reasons why customers view a product on their smartphones but don't actually buy it is because it's not particularly easy to click "buy." On the smaller screen, having to scroll through a page desperately in search of the buy button is likely to lead to customer frustration and lower conversion rates. Make sure your buy buttons are clearly visible to ensure you don't miss out on sales.
2. Use auto-fill options
Typing information is significantly more difficult when using a mobile device than a desktop. Make things a little easier for shoppers by integrating auto-fill options where relevant. This will reduce the time it takes for customers to enter payment or delivery details – and make it more likely that they'll complete a purchase.
3. Add a mobile app to the mix
Perhaps you've been going about mobile conversion the wrong way entirely. Mobile websites simply often aren't as convenient for shoppers as desktop ones – but mobile apps can be. Why? They solve most of the pains experienced by shoppers. The checkout is one touch away and they have access to additional features. They receive push notifications and a mobile app is easy to configure as an omnichannel tool. Shoppers can make an order and pick it up in store.
Apps push more people down the purchase funnel, boasting conversion rates that are three times higher than those seen with mobile sites and even providing 1.5 times more conversions per session than with a desktop device. If you want to boost your mobile conversion rates and your brand doesn't have an app – it's time to get one.
And last but not least, mobile app users are already loyal to your brand. Or else they wouldn't download your app. By staying in touch via push messages, your best customers will become even more loyal, which will increase your mobile conversion rate further.
4. Make the checkout easier
Allow customers to check out as a guest. Not everyone has the time or inclination to sign up. Also, be sure to allow a range of payment options. Make sure you support alternative options, such as digital wallets, as well as credit and debit cards.
5. Mobile-friendly pop-ups
Pop-ups can be particularly annoying on the smaller screen, replacing a customer's entire view with an advert. But they don't have to be. Mobile-friendly pop-ups can be an effective way of sharing great deals and special offers with customers – actually increasing the likelihood that they'll complete a purchase.
6. Use a conversion tool
It's difficult to say with any certainty why mobile shoppers aren't going through with a purchase unless you have access to reliable data. Behavioral analytics tools like Hotjar can help you to track and analyze user behavior. With the right solution, you can identify the pain points your mobile customers are experiencing and look to eliminate them.
7. Get your visuals right
More than two-thirds (67%) of shoppers say that images are very important to buying a product. On smartphones, where the screen size is not always conducive to reading large blocks of text, they take on added significance. Think carefully about how your images look on a mobile. Perhaps even incorporate 360-degree views of certain items.
8. Offer mobile exclusives
Don't treat mobile shoppers as an afterthought. Instead, make them feel special with mobile-specific offers. Incentivize them to make a purchase on the small screen by providing them with offers and discount codes as part of a mobile ad campaign.
How a mobile app can take your conversion rate to the next level
Shopping on a smartphone is undoubtedly a different experience from being on a desktop – but it doesn't have to be an inferior one.
With their higher conversion rates – even higher than desktop – research shows that shoppers are much more likely to click "buy" when using a mobile app than using a mobile browser or even their desktop device. A mobile app makes purchases much faster and easier for consumers – boosting customer retention and conversion.
Plus, it makes your current loyal customers even more loyal. They are confronted with your brand every time they open up their phone. They get push messages and can reach your brand even easier than before. This all leads to a much higher conversion rate.
At JMango360, we have worked with numerous brands to create mobile apps that are intuitive, lightning-fast, and utilize features like push notifications and one-click checkouts to increase conversion.
We all know that people use their smartphones almost constantly to watch, browse, and communicate. It's time you used a mobile app to turn them into customers.
More stories from J-Mango e-commerce