10 years from now, retail stores may be an oddity – like telephone booths and penny arcades today. That's an odd claim to make, but before you dismiss it out of hand, consider that:
But despite all these points, there's a silver lining for retailers. Online sales – especially mobile ones – are booming, even as physical ones are falling.
Case in point: last holiday season, in 2017, mobile devices drove over 30% of all holiday sales; a double-digit increase on seasonal sales from the previous year. This strong showing in a commerce niche usually dominated by physical stores.
The proverbial writing, then, is on the wall. Retailers must get into m-commerce (mobile commerce) or risk falling by the wayside as time goes on.
The question is, how do you create a future-proof m-commerce strategy that works immediately – and continues to work as time goes on and new technologies emerge?
Future-Proofing M-Commerce with Apps
Despite the popularity of m-commerce today, 4 in 6 people have had a negative experience with mobile shopping. This is worrying, people don't just leave a mobile websites after a bad experience; 51% also buy from a competitor after.
This means that offering poor mobile experiences means losing more than half your mobile business, and giving a lot of it to the enemy. Is that a risk you can afford to take? No – so let's talk about how apps and websites should be to make customers happy.
For starters, it's important to realize that apps are the bread and butter of m-commerce:
85% of all consumers – especially millennials – prefer them to responsive sites.
Research shows that apps are better at converting traffic into sales
A Criteo report found that people view 400% more product content when using apps
In other words, apps are the single best way to retain and convert users. They offer better user experiences, drive more traffic and sell more units.
But despite all that, it's critical that you understand the importance, and role of, mobile websites in future-proofing your m-commerce.
Websites are Still Important – Just Not for the Reasons You Think
As explained above, research shows that mobile apps are the most effective channel in e-commerce, period. Compared to websites, they make the average customer spend 20-30% more; come back 2x as fast; decrease cart abandonment by over 200%.
And yet, if you look at the typical customer journey or funnel, it becomes apparent that all of the above only pertain to the later stages of the buying process.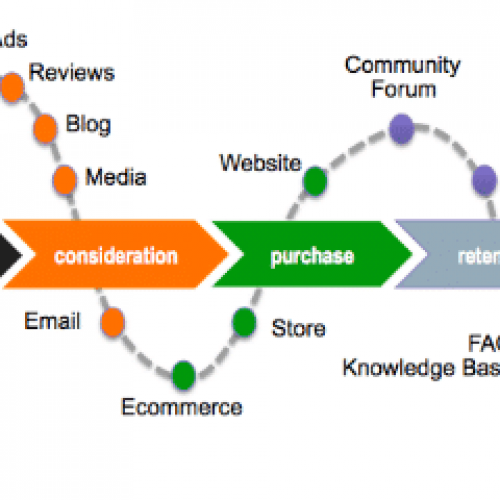 Look at the above image. Many (if not most) users won't have a reason to download your app until they're choosing a product, or at least comparing your offer to others. This means that you need a way to get them through these initial stages – which is where mobile websites come in.
Sites are accessible by anyone with internet access. They're the "basecamp" of your publicly available content; the place where you publish blog posts, videos, testimonials, SEO pages, etc.
This makes your mobile website a perfect "springboard" for bringing new users into the fold and pumping engagement. A new visitor may not want to download your app, but if the website's good, they may come around as soon as their first visit.
And that, in a nutshell, is the "secret" most businesses don't get about m-commerce. It's not about apps vs websites; it's about multi-channel customer journeys that require high-quality digital presences consistently.
Now let's recap what we've learned about future-proofing your m-commerce business in the coming weeks, months and years:
Past years have seen a fall in physical retail sales. This effect was especially pronounced in 2017's Holiday season.
As a result, many traditional retail giants – including Toys'r'Us – are facing trouble now and will continue to do so in the future.
The solution is to adopt an m-commerce strategy that's inherently future-proof, meaning it can last for years or months with minimal human intervention.
The first step is having an excellent app. That's how you maximize traffic, engagement and sales.
The second step is having a website, because that's how you get people to download your app and start on the buyer's journey in the first place.
Best Practices for a Future-Proof Mobile Store and Mobile App
Mobile apps are part of today's mobile marketing mix for eCommerce stores. That doesn't mean your mobile website is superfluous. Mobile apps and mobile stores both serve different parts of the customer journey. Creating a future-proof and competitive m-commerce strategy is about using the strengths of both channels to fill the gap of your customers' needs. In our future posts, we will dive into the best practices for both mobile websites and mobile apps.
In the meantime: if you want to build and design your own M-Commerce App for free without any coding skills and launch it with a week or so… sign-up for free to our platform here or request a demo to get a platform walk-through.
Launch your app with JMango360 and get support
At JMango360 your mobile success is our responsibility. In just 4 weeks time, we'll design and launch a PWA or native app that reflects your brand and puts your customers first. But adding an app as extra revenue channel is not a 'launch and they will find me' project. That's why we continue where others stop. Our app marketing support team will make your app results their priority. With best practices, templates, full support of experts and monthly app marketing calls you'll be maximizing your app results in no time!
Plan a strategy call to discuss your goals and needs.
Creating your own mobile commerce app is easy Let us show you what your app will look like