With more than one billion users, Instagram now ranks amongst the top channels for brands who want to make an impact on social. While it's still sixth in line in terms of active daily users, that's only part of the story. 
IG's emphasis on image-based sharing makes it ideal for showcasing products—and its fast becoming the place to buy them too.
New features launched last year have transformed the social network into a mobile shopping powerhouse. 
Some 80 percent of IG users follow at least one brand, while sixty percent actively seek out new products on a daily basis. That's why Instagram is expected to drive 70 percent of Facebook's new revenue by 2020.
With the arrival of Instagram Shopping, brands gained the ability to tag products directly in posts and Stories – the short video feature IG 'borrowed' from SnapChat back in 2016. Tapping a tagged product takes you directly to the item you want to buy, and thanks to a new checkout feature added earlier this year, you don't even need to leave Instagram to complete the sale.
So how can online retailers reap full benefit from Instagram's optimised e-commerce capabilities?
1. Make your stories and images shop-able
Before Instagram Shopping, brands could only sell products by suggesting followers to visit a 'link in bio'. Now each product in an image can be tagged individually, and linked back to a mobile web page. 
Users click the link they like and are then re-directed to the brand's own webshop (outside of Instagram) to make a purchase.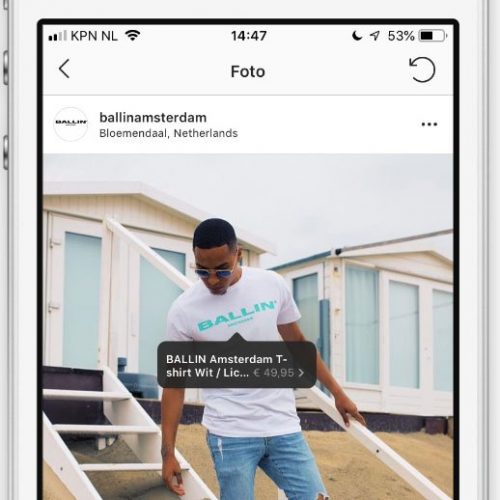 Tagging a product is as easy as tagging a person, but far more powerful for online stores. Product tags can display additional details like descriptions, prices, and benefits while linking back to the brand website.
You can tag up to five items per image, or up to 20 if sharing a carousel (multi-image) post. This handy guide from Instagram explains how to do it.
2. Let customers make in-app purchases
Instagram's new checkout feature allows users make a purchase without leaving IG to visit the retailer's website. 
While some may question the impact that has on brand loyalty, for boosting sales quickly the logic is inescapable: the fewer steps it takes to complete a purchase, the less likely people are to abandon their cart. Users will have a credit card and shipping address stored on the Instagram app, which means purchases require a few taps, not a few minutes.
Note: A new Checkout feature is only available in the US, and restricted to a few big brands, like Nike, Zara and Michael Kors. When it does roll out to the wider market, Instagram takes a fee on every transaction, so brands will need to weigh the benefits of a checkout within Instagram or within their own brand mobile site.
A programme of a/b testing will help you understand which approach is most effective.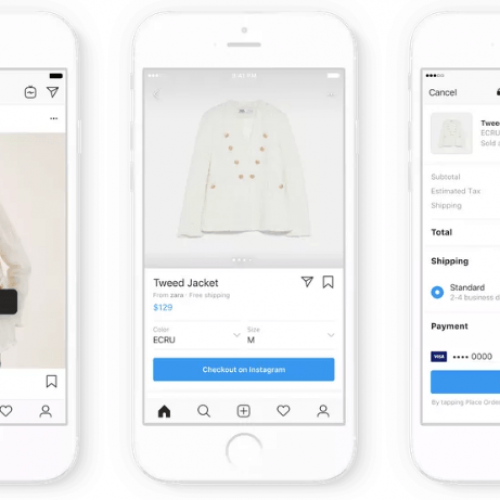 3. Promote your mobile app
Promoting your own retail or ecommerce app is another way Instagram can help improve mobile sales. While buying products directly through Instagram might risk incentivising hit-and-run purchase, promoting your own app can convert introductions made on Instagram into long-term relationships, turning one-time buyers into frequent shoppers. 
When a potential customer has been hooked by a beautiful product image, pushing them on to your app will ensure they have your brand icon on their phone 24/7. It also means you'll be able to send push messages and incentivise repeat purchase, creating a deeper connection with personalised communication.
Mobile retail apps are known to drive sales and retention. Brands who promote their mobile app, see a sales increase of 30% year-on-year worldwide research shows. App users also tend to come back more often, have a higher conversion rate (up to 3x higher) and spend more, adding ca. 27% to the average order.
Other tactics include running contests and giveaways on Instagram to generate more app downloads, and creating app download videos using a special feature on Facebook Ads Manager.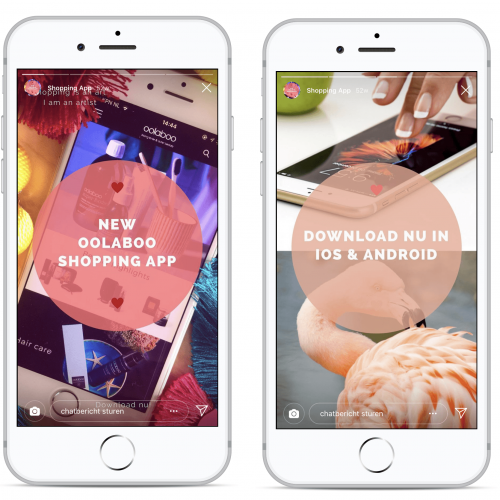 4. Take advantage of swipe-up
Brands with a business account and more than 10,000 followers can add a specialised link to their Instagram Stories with the 'swipe up' function. That makes it easy to leverage the simple power of gestures in mobile e-commerce, and further encourage your followers to buy a product or get more information.
Clothing brand Berschka uses the swipe-up function in its stories to demonstrate what their products look like 'in real life'. Berschka also adds a 'store sticker' that simplifies purchase directly from stories to improve conversion.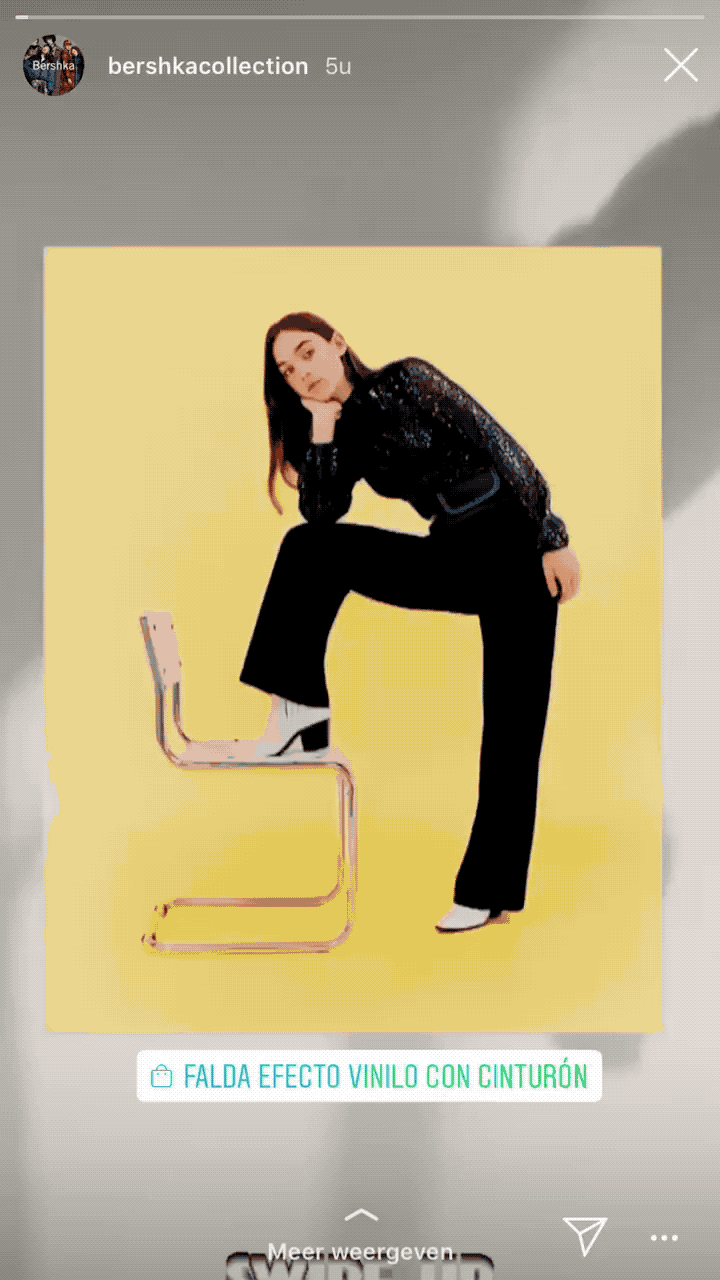 5. Add a trackable e-commerce link to your IG bio
Generating standard webstore traffic through links in your Instagram biography is a tried and true way to sell through Instagram. You simply reference the link in the descriptions that accompany product-related posts, making sure that the relevant link is responsive for mobile – since followers will arrive at it via the Instagram mobile app.
Using a tool like Linktree makes this easy, and gives users a handy overview of most-shared links in your posts and Stories. It also captures important clickthrough and traffic analytics for campaign measurement.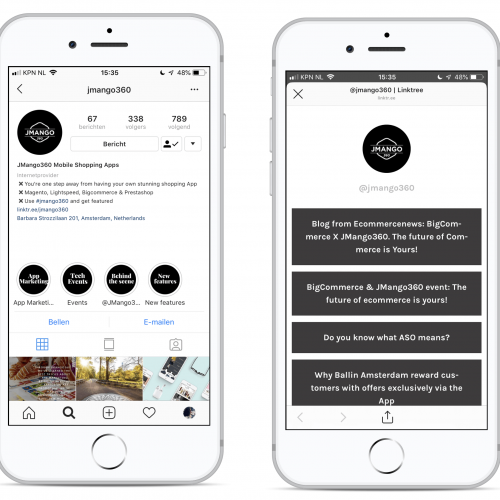 Some general tips for improving Instagram's e-commerce effectiveness
Use high-resolution images

: Insta posts need to be crisp and brilliant, otherwise you'll lose potential shoppers. Don't post anything that's blurry or where the product is obscured in a cluttered image.

Stick to one or two products per post

: Instagram allows tagging of up to five products on a single photo, and 20 products on posts with multiple photos. Don't feel pressured however to pack everything into every post. Clicking on an Instagram photo and seeing five tags can be overwhelming — especially if it's repeated.

Establish a consistent and on-brand look & feel for your posts: People should recognise your branding immediately in the way posts are constructed. Go for the same feeling, filters, and tone of voice.
It really depends on what you offer, what your goals are, and the needs of your audience. If you're looking for ways to improve customer loyalty and incentivize repeat purchase, promoting your app on Instagram is a great place to start. If you're looking for short-term sales, Instagram Shopping could be a great option. 
Given the power of social and the potential reach of Instagram into a retail-ready base of users, it's important to test all the features and determine which work best for your brand. 
It could be that a combination of tactics utilizing posts and Stories is most effective. It is a matter of testing, testing and testing again.
Need help launching an app or want to improve your mobile sales? Request a free strategy call and find out why JMango360 is the #1 agency for ecommerce and retail apps.
Creating your own mobile commerce app is easy Let us show you what your app will look like