So! You've developed an ecommerce app and published it in all the app stores. Now it's time to get downloads, regular users, and buyers through app marketing.
Your first go-to audience is your existing customers. Why? Your customers already know and love your brand so they are more likely to download and use your ecommerce app. However, you should also view your ecommerce app as an opportunity to reach a completely new audience.
Google Play alone processes six million unique search phrases per month. Apple's App Store doesn't reveal its own search volume, but it's safe to assume the numbers are just as impressive.
This means that when your app is ranking high with the right keywords in both app stores, there is a huge base of potential new customers.
The good news is that by using app store optimization you can catapult your ecommerce app to the top of App Store search results. The bad news is that there are 3 million apps in the Apple App Store alone, which tells us you have a lot of competition.
We'll give your app a head start with this step by step article on how to use the right app store keywords to maximize your app's visibility and get more app downloads.
We'll start by discussing…
1. Why App Store Keywords are so important
App Store keyword optimization includes all the text in your app's page, from its title to its description. This includes "secondary" text, like app subtitles (iOS only), but excludes text added to marketing images.
App store keyword optimization is important because using the right keywords – the ones users search for – helps users find your app more easily. But it's not just about adding some keywords and you're done. Writing persuasively is just as important and can lead to more downloads.
The goal, then, is to write good copy that features relevant keywords. To get an idea of how effective this is, consider that:
Using the right app keywords in the title

alone

can increase app store ranking by

up to 10%

.

47% of iOS users and 53% of Android are

finding apps through

App Stores search by using certain search terms.

65% of downloads

come from App Store searches.
With that in mind, it's safe to say that app store keywords are an important and effective way to improve app store marketing.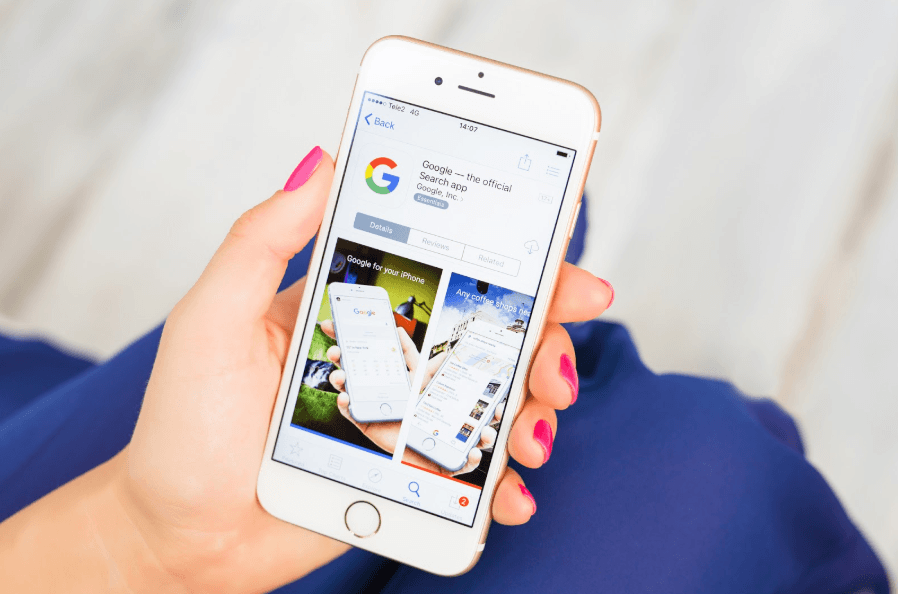 2. Which keywords are the most relevant for ecommerce brands?
Now that you know why keywords are important, on which keywords should ecommerce brands focus?  
In March 2017, TUNE's John Koetsier analyzed the app stores' top 500 keywords. He found that 9 in 10 were branded. This includes:
100% of top 10 keywords

92% of top 25 keywords

86% of top 100 keywords

80,5% of top 200 keywords

68,33% of top 300 keywords

60,75% of top 200 keywords

58,4% of top 500 keywords
What does this tell us?
This takes us back to the beginning of the article, where we explain that your first audience is your existing customer base. Making sure people looking for your brand can find you in app stores is important here.
But it's also important to target people outside of the top 10 keywords. What are they searching for?
Your current keyword research for your webstore can be a great starting point for your ASO as well. What business are you in? How do they find your webstore? Which phrases do they use?
For example: if you have a sneaker store that sells unique shoes it would be logical users will find you – in addition to your brand name – through words like 'unique sneakers', 'exclusive sneakers', etc.
In the next steps we'll explain how you can optimize your app title and how to use keyword tools to find the right search terms.
Keep in mind that Google alone sees six million unique phrases searched monthly. This tells us that once you've performed keyword research for ASO, you need to keep optimizing it regularly.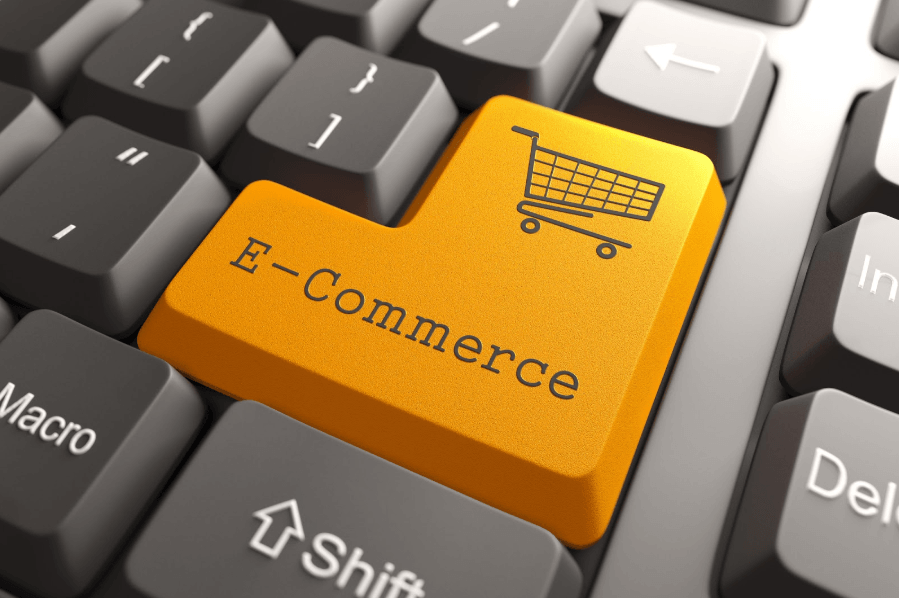 Before we explain how to find the right keywords, let's touch on one more thing: app titles.
An app title isn't just what users see. It also determines the title tag and URL of the app page. Choosing a title that reflects your brand and the app's function, then, is a very effective way to use keywords.
For example, let's say you have a conscious fashion store called "Vegans Only". You could just use your brand name as your app title. However, you'd see better results by using more of the characters available to you and calling your app "Vegans Only – Conscious Fashion".
This, in a nutshell, is what Amazon did recently. They added the competitive "shopping" keyword to their app title – and more than quadrupled their global traffic share for the keyword (2.12% to 9.88%).
Given that this one small tweak helped Amazon get 1 in 10 page visitors looking for "shopping", the takeaway is clear. Your title should feature your brand name but also be optimized for what your brand and app offer.
Next, let's talk ASO keyword tools.
4. Using ASO keyword tools
Alright, so now you know that keywords are important – and that the title is especially so. But how do you come up with the keywords you need, as well as the extra ones to feature in your title?
Using ASO keyword tools, of course!
Our favorite free tool is appkeywords.net. The reason we love it so much is that it uses the auto-fill suggestions from the Play Store, really helping you understand your target audience's experience and used search terms.
Another outstanding tool is Keyword Tool. This handy tool gives you terms associated with the keyword you enter, which helps you to give insights in the keywords people are searching for. For example, here's what you get when you look up "sneakers":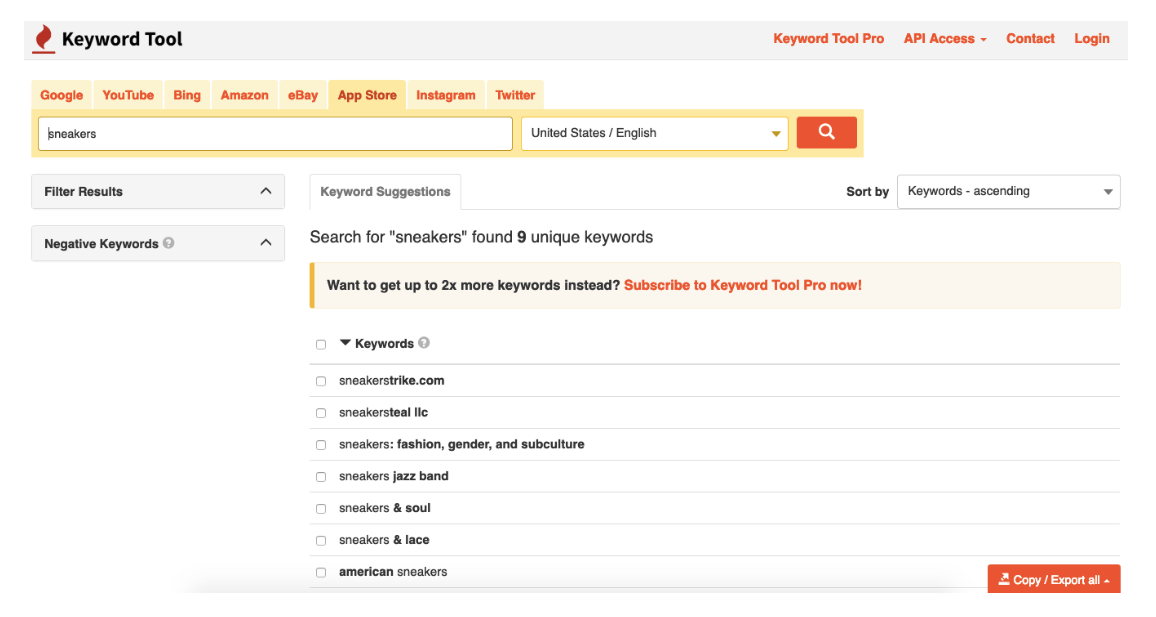 A final free tool that does the same thing while also showing search volume and AdWords competition is Search Springs. Here's how a search for "sneakers" looks here: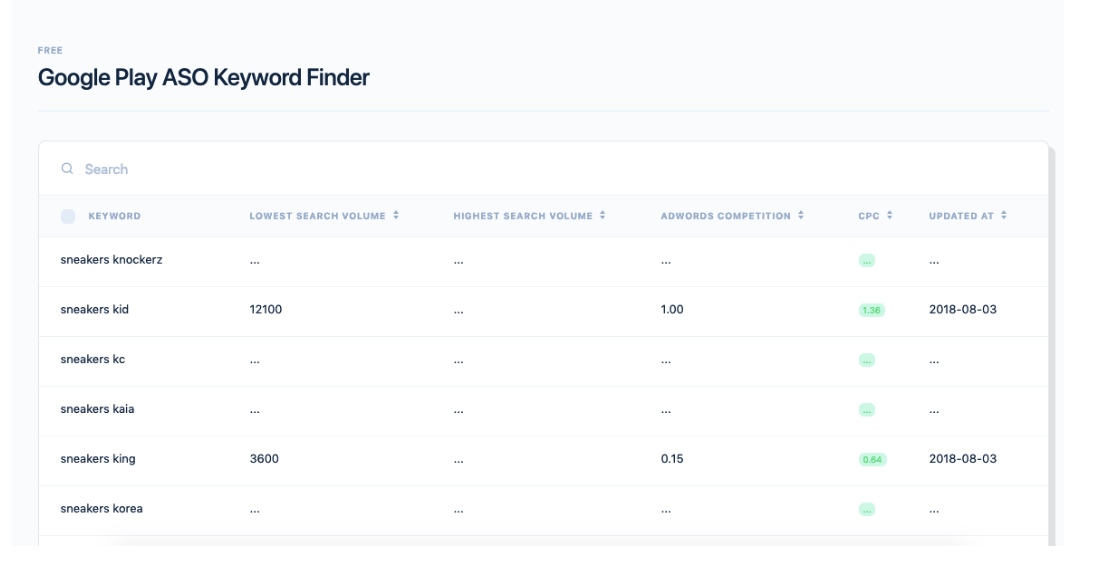 5. Finding the right app copy length
How long should your copy be?
Your app title should be 25 characters or less, or it might get clipped in a way that you dislike. Your app subtitle, which summarizes your app concisely, can only be 30 characters long – so avoid using cliches like "world's best app" and focus on important keywords.
Your app's description can be long, but we recommend sticking to 255 characters. Only 5% of users hit the "more" button to read past that point so that's the part that counts.
If you're publishing a Google Play app, you also get an 80-character "short description" that appears as preview text, so make sure to use that wisely too.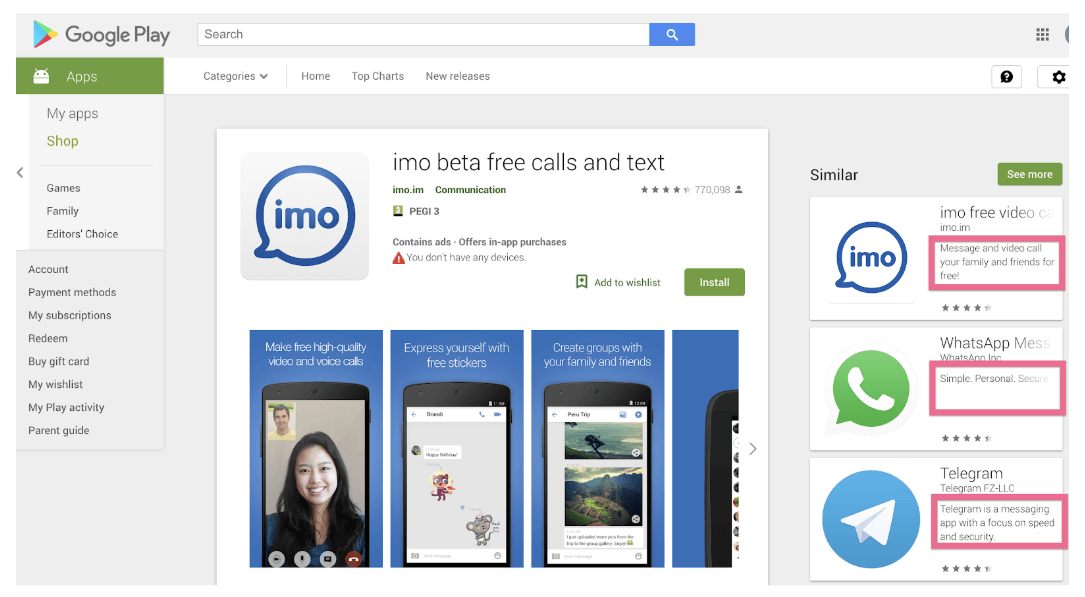 If you're not sure how long something else should be, research before making a decision. The maximum length and the suggested length are usually two different things.
6. Use localization to improve your results
If you have the time and resources, it pays to do app store localization so putting out different app copy for every market you publish in.
Some cool tips include:
Using your English brand name as well as a local-language version

Using English keywords and their local-language versions

Translating and adapting copy to be more persuasive
Last but not least…
Keywords are very important for ASO, but getting positive reviews is another key element of improving search visibility and ASO SERP rankings.
One way to get more and better reviews is through in-app rating prompts. An app's rating is arguably the single most important factor influencing app downloads – so making a little effort here pays off.
Something else you can do is incentivize reviews and ratings with in-store promotional efforts, pushing reviews through e-mails, and use incentives for app reviews. To get more tips, check out our beginners' guide to app store optimization for e-commerce stores.
Now you know all about using app store keywords effectively. How would you like to start implementing what you learned by going on a free app marketing strategy call with our team?
We've helped over 1,000 B2B and B2C brands to boost their app marketing results and can do the same for you. Call us now to get information about how to create an ecommerce app or about ad placement, banners, keyword optimization for ASO, and more!
Ready to maximize your mobile results? Find out how an app can enhance your business.
Request more information