10 years ago, most retailers were asking themselves: why do I need a website for my ecommerce store?
5 years ago, that question morphed into "why do I need a mobile website?"
And now, the question of the hour is, "why do I need an ecommerce app?"
This is an excellent question. You may already know, on an intuitive level, that you need to get one. You don't want to miss out on a new, important sales channel and end up like the retail stores that ignored e-commerce in the 00s.
But what are the specific, tangible benefits an app can give you? And why are these benefits so important that not having an app is a serious concern for any online store?
Below, we'll give you the 3 key answers to that question. The first reason is that…
eCommerce Apps Drive The Most Usage & Increase Receipt Sizes
Browsers account for just 8% of all time spent on mobile. Apps make up the remaining 92%.
This means that if you don't have an app, you're missing most of your opportunities to reach and engage new prospects. You're also losing out on new business from old customers because eCommerce apps are among the most-used. The average consumer opens them 17.5 times each month compared to just 13.1 for media and entertainment apps. Making and marketing an eCommerce app successfully creates return business; not 1-off visits that may or may not result in purchases.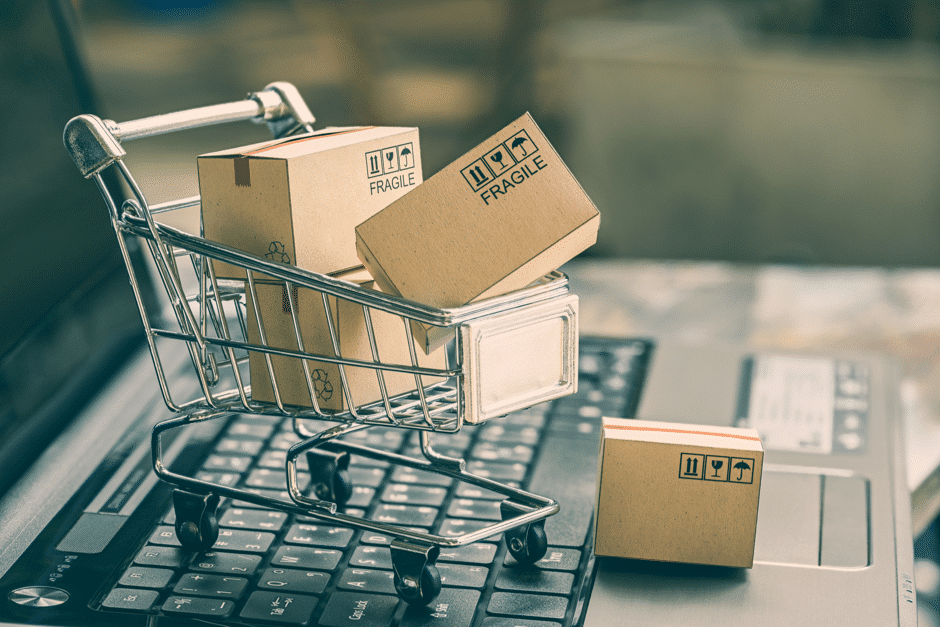 On top of these advantages, an eCommerce and retail app will also increase your average receipt. Ben Gray, a Digital Experience Analyst who's worked with Taco Bell, notes that the fast food retailer's average orders are 20% higher on the mobile app. A Criteo study found that top retailers find the same thing; customers come back 2x quicker within 30 days, view 4.2x more products and spend more when they use your shopping app instead of your mobile website.
At the end of the day, with 62% of all e-commerce traffic coming from smartphones and tablets, you need a mobile presence. And if you're serious about making sales with that presence, it's going to be an app. But that's statistics and figures. What about the intangibles of having an app?
Let's cover those below by explaining how apps offer…
eCommerce apps offer better User Experiences
Digital user experiences (UX) – which include things like visual appeal, ease of use, features, etc – are important. Take loading speed. 4 in 10 users leave if content takes longer than 3 seconds to load. Other user experience problems, like limited features and a complicated checkout process, push even more people away. Research shows that 4 out of 6 people have had a negative mobile experience and 51% say they have purchased through a competitor due to this bad mobile experience.
Compuware study found that 85% of all consumers prefer mobile apps over mobile websites due to…
Convenient
Speed
Easy checkout
Personalization
All these UX improvements can minimize your bounce rate, keep people engaged and ultimately increase conversions. This is the second reason retailers need an ecommerce or retail app in this day and age.
Now, for our last point, let's cover how…
Shopping Apps Can Help Turn Customers into Brand Fans
A Criteo study has shown that mobile apps are the single best way to accelerate the sales journey, sending shoppers through purchase funnels 300% faster than a regular mobile website. This is largely thanks to Push Notifications: pop-up style messages that inform users of new messages and in-app events:
Push messages are increasing customer retention by up to 7x while pushing down cart abandonment rates and giving you an extra marketing channel. They keep users engaged, buying and loyal, guiding them down your sales funnel more quickly. In other words, they help you go from having customers to having brand fans that drive repeat purchases and advocate for you.
On top of that, eCommerce apps give you advanced metrics what users are doing at any given time. This gives you superior data, allowing you to improve your offer further – and position yourself in a way that improves customer loyalty. Once you do that, you can use the information gathered from your apps too, for example, reward loyal users with deals.
Compared to a website, which can neither message people, nor give them highly targeted deals, nor provide you the same advanced metrics that apps do, why would you not have an app?
Mobile apps are becoming mainstream
Now let's recap the 3 main reasons every store needs an app in 2017 (and beyond):
Apps lead to more sales and bigger receipts for retail businesses
Apps are needed to create effective, high-quality user experiences
Apps turn followers into loyal brand fans
Fortunately for you, making an app doesn't have to cost tens of thousands of dollars – or even thousands of dollars.
Yes, as recently as 3 years ago, a basic e-commerce app could run you as much as $20,000…
But things have changed since then. Last year, Magento – the single biggest e-commerce platform in the world – gave our company its Innovation Award for creating a special tool: a mobile app builder that can turn your e-store into a beautiful, customizable eCommerce or Retail app in just seconds via a plugin.
Want to try it out?
Then click the button below or sign up to our app platform to try the service for free and make your very first eCommerce or retail app right now – or schedule a demo if you'd like to see us turn your store into a shopping app ourselves.
Launch your app with JMango360 and get support
At JMango360 your mobile success is our responsibility. In just 4 weeks time, we'll design and launch a PWA or native app that reflects your brand and puts your customers first. But adding an app as extra revenue channel is not a 'launch and they will find me' project. That's why we continue where others stop. Our app marketing support team will make your app results their priority. With best practices, templates, full support of experts and monthly app marketing calls you'll be maximizing your app results in no time!
Plan a strategy call to discuss your goals and needs.
Creating your own mobile commerce app is easy Let us show you what your app will look like