The global e-commerce scene has been far from boring over the last couple of years. Growth has been achieved in markets around the world, with e-commerce sales in the US increasing by 14.2% in 2021. In the UK, already the world's third-largest e-commerce market, growth is predicted to hit nearly 26% through 2025.
Although this growth is impressive, it is not uniform. Increasingly, shoppers are favoring mobile channels to make their online purchases. The rise in mobile website traffic – from just over 10% in 2012 to consistently above 50% since 2017 – is driving mobile e-commerce growth. So much so, that mobile e-commerce sales will exceed 4 in 10 retail e-commerce dollars for the first time this year.
But even businesses focusing on mobile commerce have encountered challenges of late. Rising costs related to fulfillment, shipping, and advertising (not to mention inflation) have eaten into profits. Return on investment (ROI) is proving more difficult to find in the e-commerce sector – but it remains achievable. For e-commerce firms looking to ensure that growth is accompanied by strong levels of ROI, we've compiled several tips, from improving conversion to launching a native e-commerce app.
Ways to grow the ROI of your webstore:
Like the market as a whole, many e-commerce businesses are also experiencing rapid growth. But growth is not the same as profitability. If your e-commerce business is generating a lot of sales, but also demanding huge costs, it could be making a loss even as growth continues. 
Below we've listed four options that will help you improve the ROI of your e-commerce company:
Spend your budget more wisely on online ad channels 
It may seem counterintuitive at first, but increasing your expenditure on marketing could lead to better ROI for your e-commerce business – if this increase is targeted appropriately. For example, email marketing usually generates a very high ROI due to its low cost to run, but may not be the best way of reaching your particular customer base. 
Instead, think about investing more in SEO, social media ads on Facebook or Instagram, and even influencers on platforms like TikTok – 49% of people say they rely on recommendations from influencers when making their purchase decisions. Analyze your audience carefully, track the relevant metrics, work out your current ROI, and then funnel greater investment into the best-performing ad channels (and decrease your spending on the poorest performers), therefore, improving your ROI.
Globally, the average e-commerce conversion rate stands at just 3.69%. Increasing the proportion of visitors to your website or app that complete a purchase – even by just a few percentage points – could significantly increase your profits. One of the most effective ways of boosting your conversion is by enhancing the customer experience – either by improving the user interface of your online shop or by ensuring you have a mobile responsive site. 
Another approach involves reducing your cart abandonment rate. The majority of mobile traffic lands on sites with higher cart abandonment rates. For example, on average, desktop sites have a cart abandonment rate of 68%, while on mobile sites this figure rises to 86%. Higher levels of ROI can be achieved by lowering your abandonment rate – that's why many brands are exploring the use of a native e-commerce app, where the cart abandonment rate stands at just 20%.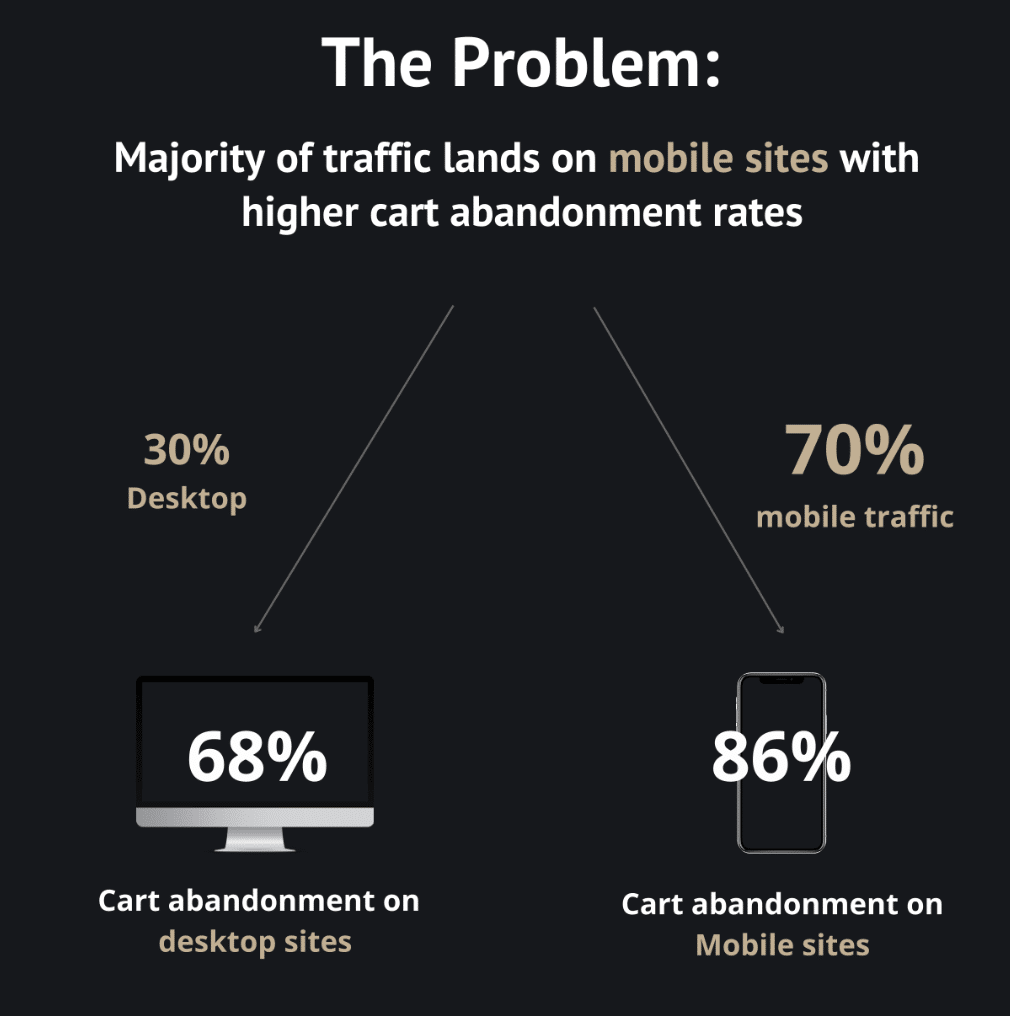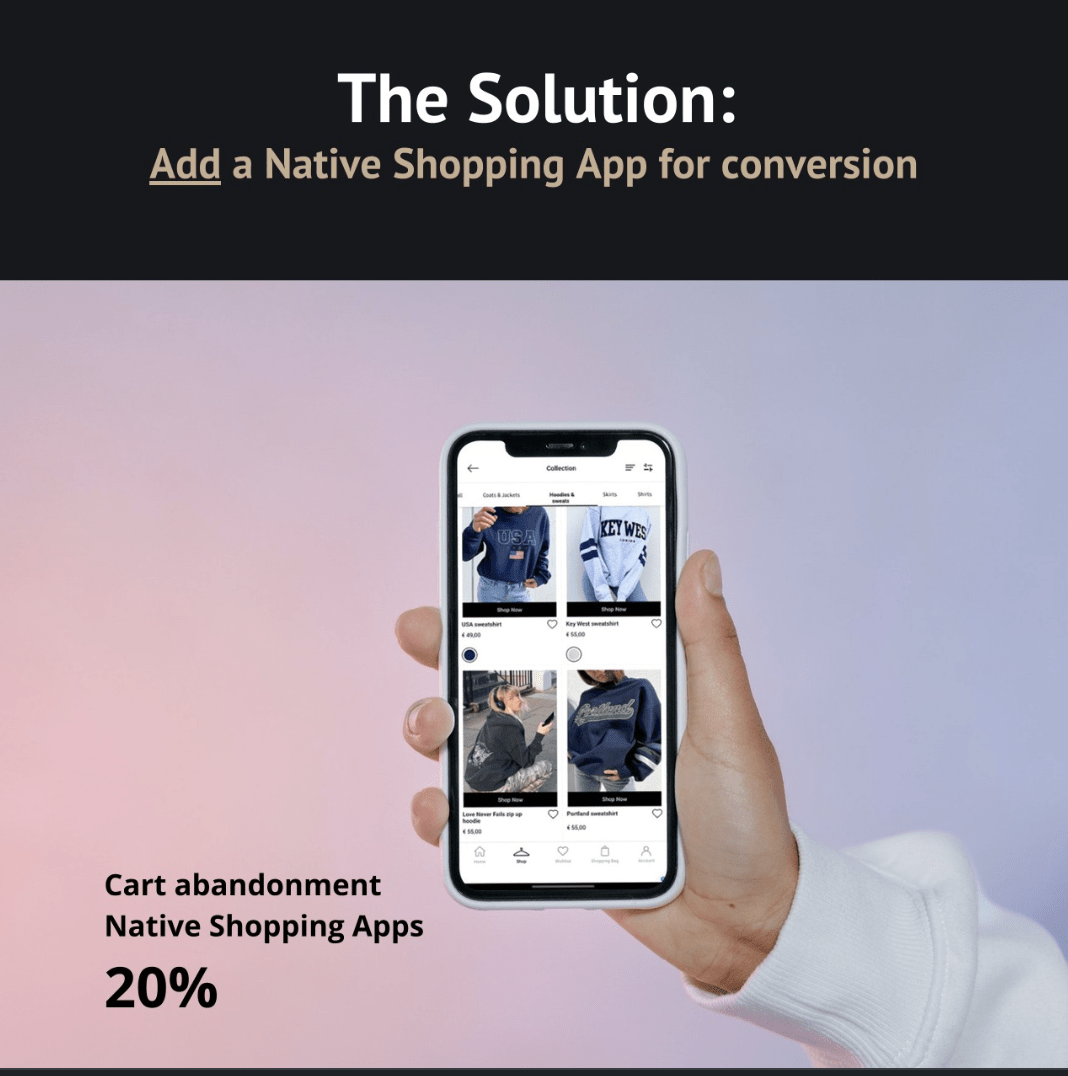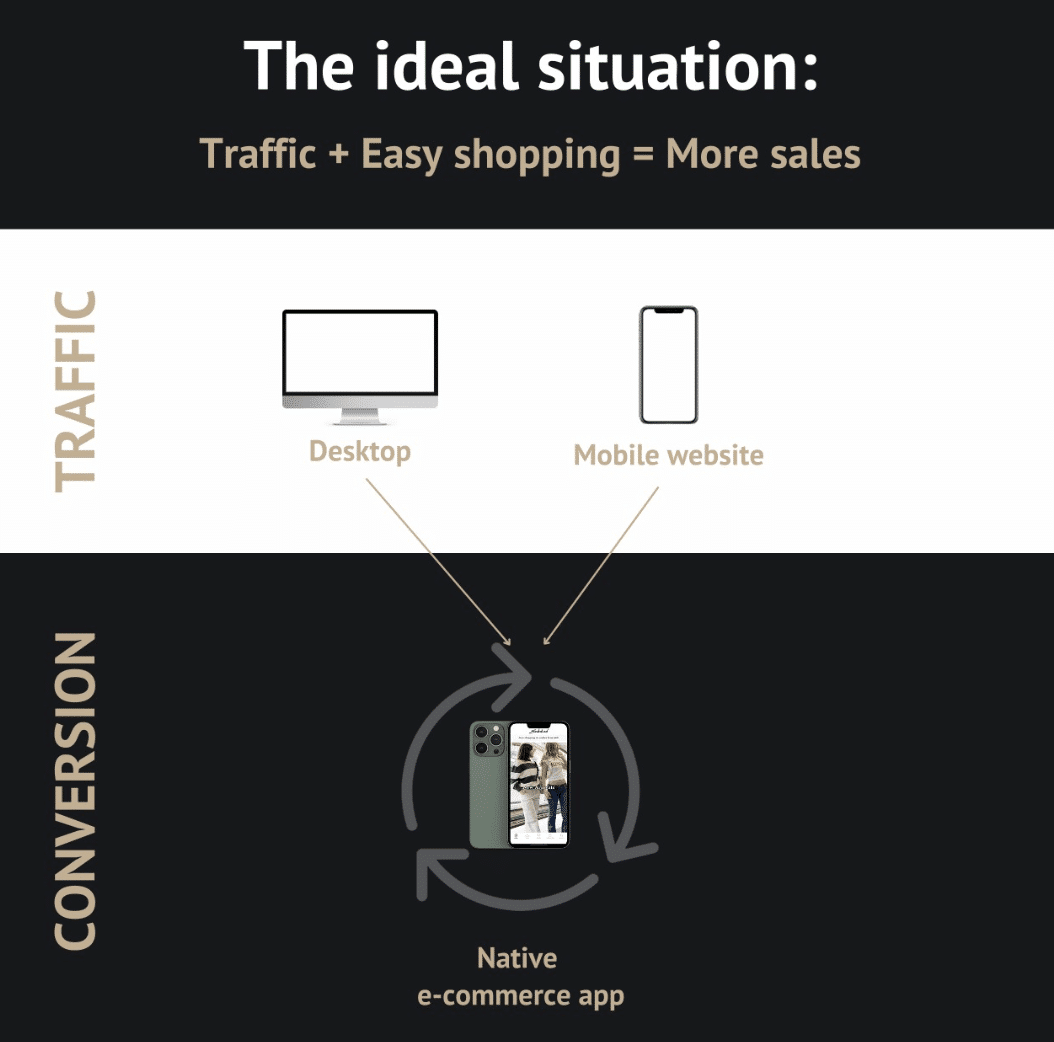 Work alongside an existing marketplace
Building an online presence isn't always easy, which is why some e-commerce brands prefer to work with an existing digital marketplace. The advantages of this approach are that it provides an added layer of trust between the brand and the shopper, lowers marketing costs, and makes products easier to discover. 
Disadvantages of working with an existing marketplace include that brands will be charged a commission (which will eat into ROI) and they may not have as much control over their online presence. 
Launch a native e-commerce shopping app
While it's clear that more shoppers than ever are completing transactions using their mobile devices, it's important to recognize that there is more than one way for customers to engage with a brand using their smartphone. Unfortunately, some e-commerce firms continue to offer clunky websites that aren't optimized for mobile devices. Research indicated that 85% of consumers favor mobile apps over mobile websites, so consider whether an e-commerce app might help improve your customer experience and boost sales. 
What's more, a native e-commerce app can benefit from the other tips listed above to supercharge your ROI. For example, by investing more (and more wisely) on ads, the resultant traffic boost in will drive a higher number of mobile visitors, who will then download the app. With app users boasting a higher average order value, it's easy to see how your investment in a native e-commerce app results in higher ROI. The app will quickly pay for itself!
Why an e-commerce app is the best option (especially for ROI)
Growth may be easy to come by in the e-commerce space, but that isn't necessarily the case with ROI. With a bespoke e-commerce app, however, businesses can have complete control over their brand, optimize their conversion rates, and evaluate their ROI in clear terms.
Not sure how to create your own mobile e-commerce app? At JMango360, we can help you build a premium e-commerce app in just days. Why not get in touch with us today?
Do you want to launch your app to boost your ROI
Request more information and let's talk!
More stories from J-Mango e-commerce