Turn mobile visitors into mobile customers
Create a powerful shopping app for your Lightspeed webstore More than just a Lightspeed extension
Our platform provides you with all the features you need to create a Lightspeed shopping app, and more!
All-in-one shopping app solution
Our platform doesn't just provide you with the shopping app features on par with Amazon and Asos. It gives you not 1, but 2 apps. Yes; your subscription for a Lightspeed shopping app will include a native app for both the Apple and Google Play Store, covering a total of 98% of the world's active operation systems.
Effortless app management
We've built a plugin that deeply integrates with your Lightspeed webstore. This seamless integration saves you time, money and effort, because all of your webstore's products are already visible in your app. Managing a shopping app has never been easier!
No limits
No matter what size you are, we're ready for it. We believe in facilitating mobile growth. Therefore, our platform supports unlimited products. Not to mention, you can send out personalised push messages to your customers anytime you want.
Keeps getting better
Our product managers are always busy with improving our platform. We are constantly aiming to develop the latest features and better plugins for Prestashop webstores. When we launch our latest updates, your app gets them automatically with no charges or additional fees.
We've doubled our mobile revenue since launching the new shopping app. We've received a lot of reviews saying they're in love with the App and most of our users rate us with 5 stars. We want to be a 'makeup heaven' for our customers and I feel like we've achieved this with our App.
Maaike, owner Boozyshop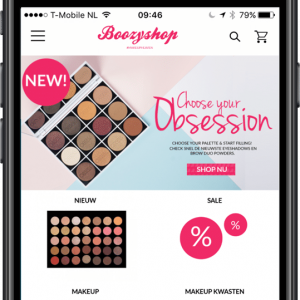 Get the most out of mobile visitors
higher average order value
So what will your customers think of our Shopping Apps?
Our shopping apps receive an average rating of 4.8 out of 5 from their users. Why so high, you ask?
We've designed our platform to provide your customers with the best user experience. Our apps are native, meaning that product browsing and checkout methods run way faster than on a mobile responsive website. These are just a couple of reasons why native shopping apps have a better user experience.
Exclusive sneak peak of your shopping app?
Create an account and discover the awesome features of our platform