How Symfony realized +300% Growth for Cruyff using JMango360
"The JMango360 solution allows us to build and maintain shopping Apps by plugging into Magento CE & EE, without any App development skills. It is a great way to address the growing need for Retail Apps. For our customer Cruyff, we increased mobile sales by 300%."
+
0
%
More Product Views
+
0
%
More Repeat Customers
Amazing Native App for Sneakers Enthusiasts
Symfony helped its client Cruyff Classics, to become a well-established brand of sneakers and sports throughout Europe. Although the brand is growing fast on other channels, Cruyff noticed that the mobile sales was inconsistent. By launching a mobile App, Cruyff intended to grow mobile sales more consistently and become part of its customers' daily life. Using the JMango360 plugin, Magento solution partner Symfony was able to launch an integrated native App for Cruyff's Magento Enterprise store very quickly. Customers are in love with the App and mobile conversions increased by 300% since the launch.

Cruyff Classics is a lifestyle brand, inspired by the legendary soccer player Johan Cruyff.Cruyff Classics creates high quality, fashionable shoes and clothing with a luxurious look.

Symfony is an ecommerce agency and a Magento Solution Partner that helps companies to engage, convert and retain customers through digital experiences.
 "The JMango360 plugin to Magento CE & EE stores makes it easy to launch deeply integrated retail Apps. It's a great way to address the growing need for m-commerce Apps and help merchants boost their mobile sales." 
Michiel Tielemans
Director Operations Symfony
Beating the competition with these features
Cruyff wanted to connect more frequently with all sneaker enthusiasts and enhance their mobile shopping experience. They just did not have the budget for a custom-made App. Symfony helped them installing the JMango360 plugin, which turned their Magento store into a sneaker-haven!
Customized design and layout for iOS & Android
By improving their mobile presence with a customized designed App, Cruyff is able to keep its unique branding. Its intuitive and adaptable layout turns users into buyers on both iOS & Android.
Native end-to-end user experience
The Cruyff App has a native end-to-end experience. This means that once a user downloads the App, all the products, shipping and payment info is stored locally. Native Apps can be used offline and offer the quickest, easiest and most reliable user experience.
The most up-to-date shopping features
The App has all the features that a big multinational brand needs, yet at a price that is affordable for anyone due to its saas-proposition. With features like look book, social sharing and unlimited push messages, this App is fantastic! Updates to new features are included in the plan.
Fully integrated with Magento Enterprise & Community
Every JMango360 app is integrated with Magento. This means that all the orders, products, data and content are automatically synchronized with the webstore. This way, both channels are always up-to-date without any hassle.
Easy to use do-it-yourself platform
With the do-it-yourself tool, Cruyff and Symfony can change the look, upgrade the App to new features, get the user behavior information and more. This way customers of JMango360 stay in control.
 "What I love most about JMango360 is that we launched the App within a week due to the integration with our Magento store. It offers an incredible shopping experience for our customers without investing a lot of time! This resulted in 300% increased mobile sales and 187% uplift in repeat purchases." 
 Arno Vink
eCommerce Manager – Cruyff Classics & Premium Inc.
How Symfony realized +300% growth for their client Cruyff by using the JMango360 App Platform
Q&A with Director Operations Symfony, Michiel Tielemans
Why has the App become a priority for Cruyff Classics?
"Cruyff Classics has been a long time valuable customer. We have helped the team growing into a well-known worldwide lifestyle sports brand. Arno Vink, the ecommerce manager of Cruyff, came to us one day with the suggestion of building a shopping App. Mobile traffic has grown a lot over the years, but mobile sales have been very inconsistent. He thought that by enhancing his customers' mobile experience and making full use of mobile App capabilities, mobile sales would grow consistently. At the same time, an App would add value to its customer base. Sneakers fans and brand lovers want to know all about the latest cool new items. An App makes it easier to stay on top with push messages; it's easier to shop anytime anywhere without the need of an internet connection, plus the App icon insures constant branding."
"JMango360 caught our attention when they won the Magento Best Innovation Award."
Why was JMango360 the best fit?
"When researching the possibilities of an App we agreed we needed to offer the best mobile experience if we really wanted to add value. We found out that custom-made Apps were highly above budget. Actually, Arno suggested building the App through JMango360. The solution of JMango360 caught his attention when winning the Magento Best Innovation Award. We researched the solution by reading reviews on Magento Connect and other forums that were very positive. After contacting the technical team of JMango360 for the specs, we installed the plugin to check the impact on the backend. The impact was very little and the installation was very smoothly."
"So we researched the plugin and read reviews on Magento Connect and other forums, which was all very positive."
"Next to technical requirements, JMango360 offers a high quality native App with all the features required, but still very affordable. Its Saas-proposition is very attractive, because new features are included in the plan. The other unique thing about JMango is that due to the integration with Magento, the App is super easy to create and design, and all data and orders are synchronized with the back office, so everything is up-to-date without any hassle. The team of JMango360 is very helpful and engaged, and as a partner or customer of JMango, you stay in control, that is, you can change the design, send push messages and change the layout anytime you want with the do-it-yourself tool"
What can you say about the technical implementation?
"The implementation was very easy. We installed the plugin, which took a few minutes, and checked if there were any conflicts with other plugins. This went smoothly. We had a minor conflict with another existing plugin, but with the help of the Jmango team, it was solved immediately. We then tested the App, by downloading the JMango360 preview-app from the App Store. The plugin imported all the content and product pages from the store backend correctly. In addition, the filters and the order of products were duplicated. We checked some critical features, like payment and shipping methods and these were also successfully synchronized. All this took only a few days. After this process, we discussed the design requirements of Cruyff, designed the banners, splash screen and then added them in the platform while publishing the App. We did not expect that building a native App would be so easy."
"We installed the plugin, which took a few minutes, and checked if there were any conflicts with other plugins but everything went very smoothly."
Why is it great to be a partner of JMango360?
"For us, it's great to be a partner in the JMango360 solution. Because we choose partners that are complementary to our business and we also want a business advantage. We want to help our clients grow through mobile but still stick to our core business as a web specialist. With the JMango360 platform, we can build Apps for any Magento storeowner and update and maintain the App for the customer. We can also address the growing need for mobile Retail Apps and differentiate ourselves from other agencies. With the partnership program, we receive support on marketing initiatives and priority with technical support. We get commission for every customer and help them to grow even further."
"We are able to address the growing need for mobile Retail Apps and differentiate ourselves from other agencies."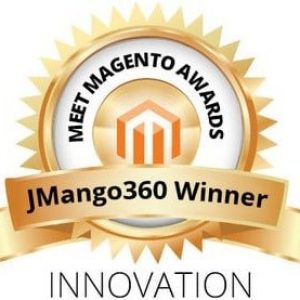 Magento Innovation Award Winner
JMango360 won the Meet Magento Innovation Award. Guido Jansen, Vice President, Meet Magento Association on JMango360: "JMango360 developed a plugin for Magento webstore owners who want to improve the mobile experience (iOS & Android). The mobile experience is super important and JMango360 has the perfect solution."
Benefits of becoming a JMango360 Partner
One-stop-shop
With the Saas-proposition of JMango360, you can build Apps for customers by yourself. This way, you can be the go-to-partner for all their mobile business needs.
Award winning
 You can offer your customers a Magento Award-winning App with features that serve big brands, at a price that works for SMB's.
Happy Clients
JMango360 Apps have a proven track record of increasing mobile conversions and improve retention rates, in addition to positive reviews.
Commission
We will help you achieve great results through our partnership program. We offer an attractive commission structure and sales support.
Beta Programs
Active partners will be involved in the product road map of JMango360 to develop new features. They can also get access to beta programs.
Ready to learn more about becoming a JMango360 Partner?
Contact us today and we will give you a Demo and explain more about the product and our partnership program.