Reinoud Tjallema MSc (Motorcycles United) - "Treat customers the way you want to be treated."
Reinoud Tjallema didn't set out to  start a webshop. As a true motorcycle enthusiast with a passion for things mechanical, he founded the blog and online community "Cafe Racers United" seven years ago.
"It started as a hobby and purely out of passion. I wanted to share my own experiences, talk to fellow tinkerers and bring people together who shared the same interests." The blog grew quickly, pulling a daily audience in the thousands  and developing into a devoted online community. "I wasn't in it for commercial gain but really to help other people with a passion for motorcycles. Next to my full-time job I invested at least 20-30 hours a week – purely because I liked it. I think that's why the community has grown rapidly and has remained very authentic." Motorcycles United, the current name of the company, now has several channels, with an audience of more than 300,000 followers and members.


'Tapping the power of community'
According to Reinoud, both the webshop and the app would never have been so successful if they hadn't invested in the community first. "Simply offering an online catalogue no longer works. People like to buy from an expert, someone they trust and onde who gives them useful advice. Building a community allows you to demonstrate credibility. People can see that you know what you're talking about. "
Moreover, a community provides an excellent sounding board. "You can ask your target group for feedback directly and you can drive enthusiasm and co-creation. We often ask customers for a photo, a description of how they used the part and whether they want to share the story via a blog or their own social channels. It creates a 'buzz around the brand' and results in a more engaged community who are happy to share their thoughts with you."
What will Reinoud's focus be for the coming months? "We just launched a complete new design for caferacerwebshop.com. With this new design we're going to spend even more time on providing better information, customer experience and cooler products. Customer experience is everything! "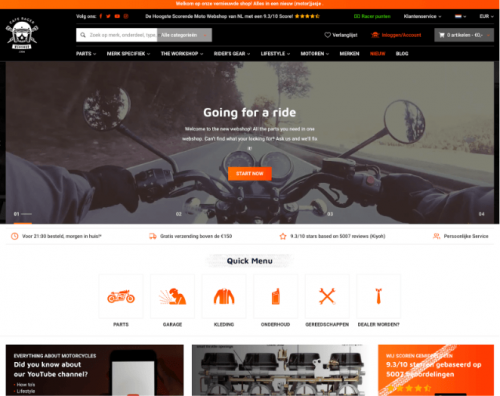 'Time for a one-stop shop'
Due to his own negative experiences ordering motorcycle parts from other webshops, an idea began to form. "I noticed how incredibly bad and impersonal those webshops were so the time seemed right for a "one-stop-shop". A user-friendly webshop with good products and a personal service, where you can also find the right information about motorcycles. Since the motorcycle industry is quite conservative, there was a real opportunity for improvement. "
In 2014 he launched Caferacerwebshop.com, which now receives orders from all over Europe. "If the whole customer experience is excellent from start to finish, growth follows automatically. That's why, for instance, every one of our customers receives a personal note with his or her order. Regardless of the country we write it in their local language. Constantly improving the customer experience is always top of mind at Caferacerwebshop.com."
'An app improves the customer experience'
One way to improve that customer experience was to develop a mobile app with e-commerce app developer JMango360. "We had been thinking about making a sort of news app, where you could find up-to-date information about motorcycles and also purchase a selection of products.  Several customers had also asked us if an app was in the making so we decided to push ahead."
Another motive for the app was to improve the mobile experience. "The possibilities for continual improvement are limited in a browser-based mobile webstore. Apps are much more user friendly and I really saw an app as adding value to the customer experience. "
Customer loyalty also played a role in the decision. "With an app you can reach customers directly through push messages. App users are often your more loyal customers. You want to reward that by offering them exclusive content or products. Apps make that easier to deliver, while opening up new avenues for extra services."
After an initial conversation with another app developer stalled, Reinoud met with JMango360. "The personal approach appealed to me a lot. That's how I treat my customers  – with good communication and great service. "
'You shouldn't even look at in-app revenue in the first year'
According to Reinoud, online retailers focus too heavily on quick returns. "We don't push customers to download the app. Fear of missing out is much more effective if people discover it themselves. It's better to see the app purely as an extra service for your loyal customers. In fact, you shouldn't even look at in-app revenue in the first year."
Despite that long-term view, Caferacerwebshop.com's results have skyrocketed. The app is available in three languages ​​(English, Dutch and German) and pulls new users and sales from all over Europe each month. While most orders originate from the Netherlands, the app's growing reputation in Germany is fueling more downloads and in-app sales. 
Even more important for Reinoud is that customers  find the app "super smooth" and "super fast". "We are the only web store in the motorcycle business that offers such an app, and that is appreciated by the community. Focusing on quality  means we stand out from the crowd."