Getting your app noticed is getting harder. 
Last year there were 113 billion Android and iOS app downloads. Google and Apple combined now offer more than 3.9 million app options, with another 669,000 or so available in the Windows Store. Even Amazon has 450,000.
The mobile app market is exploding. With a virtual Vesuvius of logo'd icons erupting onto smartphones and tablets, brands have to battle hundreds or even thousands of direct and category adversaries to get end-user attention.
That state of hyper-competition is especially challenging for online retailers, who are already working hard to adjust business models for an increasingly app-centric e-commerce landscape. 
Losing app downloads means losing sales, and opportunities to connect with new customers.
To get noticed in this crowded and noisy landscape, brands need to get better at app install marketing – and focus more resources on generating a volume of installs from both paid and organic tactics.
Reflecting on some of our most successful client campaigns, we've put together seven essential app-install marketing tips. Together they'll help make sure your brand logo is glowing brightly on as many handheld home screens as possible.
ORGANIC TACTICS:
1. Embrace App Store Optimization
Organic installs are driven primarily by organic search within an app store. That means people discover your app after searching for a relevant keyword, as they glance through the top apps in a given category, or when they're tipped to download it by the app stores featured or recommended listing.
That makes App Store Optimisation (ASO) essential. 
It's like SEO for app stores. But what keywords should you use? 
A study by app store advertising network TUNE looked at the 500 most used keywords on the Apple Store. 
Their main finding: 9 of the 10 top keywords are branded. 

Take away: Users tend to search for apps they already know.
When trying to attract users who search more generally by topic or function, use some of the thinking behind semantic search in SEO. Select keywords that relate to your app and brand – even if they don't mention them by name.
If you're a conscious fashion brand, for example, relevant keywords could include: conscious clothing; vegan bags; vegan clothes; vegan lifestyle; sustainable fashion; etc.
Positive reviews are another way to boost your app store search ranking and potentially land a spot on the store's recommended listing above the fold.
Proactively ask customers to review your app, either with on-screen prompts, or promotions like 'review & win' contests.
2. Use email confirmations to drive installs
The automated messages that confirm a transaction are opened 800% more often than any other kind of email. 
In a world of faceless transactions and virtual relationships, there's something comforting about them. And something profitable: they generate 600% more revenue than other email types.
The confirmation email offers the perfect opportunity to power up app install marketing. You have to send them anyway. Wring as much promotional value out of them as you can.
3. Use 'Share & Win' to drive installs
'Download, share & win' campaigns to get more app installs are a proven tactic that works on almost every social channel.
The idea is simple enough:  think about a reward and what people have to do to win it.  Then let others do the work. You can make it as easy as: 'download this app, share it on your social media channels, tag our company and win a new outfit.'
Promotion can happen via posts on Facebook, Instagram, your homepage – or in your customer newsletter.
4. Use "Download App" Buttons on Social Media
Most social media platforms offer more than one way to add 'download' calls to action (CTA) to your profile page. Here's Zalando's approach to app install marketing, a simple "Use App" button on their Facebook page: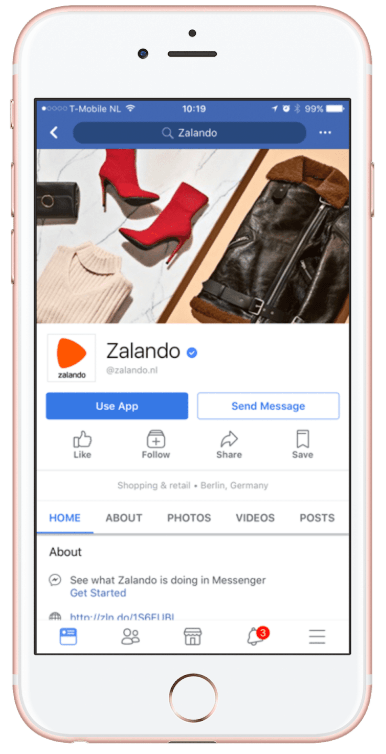 This strategy is simple, but effective. If users are already checking out your social content, guide them on to an app that has even more content and capabilities – like sending push messages that create a deeper connection with customers. Many will be happy to download it and come back to you regularly.
For even better results, use these CTA buttons and add app links to your bio while publishing quality content. That way, you'll see lots of app downloads without risking annoying customers with excessive posts.
PAID TACTICS:
Posting regularly to promote your app is a no brainer. But paid Facebook ads should also feature in you app marketing strategy.
Facebook has more users than any other platform. With Facebook ads you can target your audience based on things like age, gender, culture, country, etc.
It's a great – and cost-effective – app install marketing idea to expand your target group and boost app installs. Facebook also makes it easy to promote apps. You simply:
Go to Ads Manager

Choose App installs as the objective for the campaign

Fill out the criteria for your target audience

Choose a format section

Fill out the details of the ad (headline, text, CTA)

Run it
You should consider Facebook's advice for best practice, like using videos for app promotion.
Keyword strategy is important here as well. Titles and descriptions will feed information to Facebook's targeting algorithms about the topic.
Based on a study by Wochit, who studied over 33,000 Facebook videos, these phrases worked best: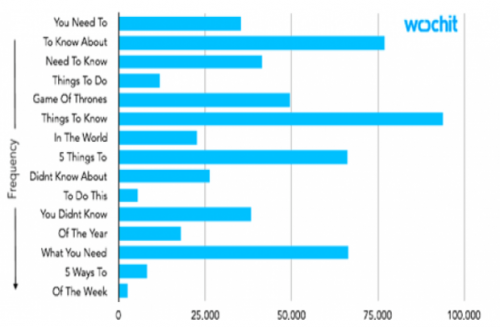 6. Use Instagram ads to boost app install marketing
Instagram really 'gets' app install marketing. They offer both mobile app install ads, and mobile app engagement ads. 

There are several options, including:

Instagram photo ad

– The format here is a still image, like what most users see in their feed

Instagram video ad

– Lets you show the app in action. 

Instagram carousel ad

– Carousel ads allow you to include several photos or videos in one ad. Users simply swipe to see each iteration.

Instagram stories ad

– These are vertical video ads based on Instagram Stories 

App install ads actually represented 26% of all ad impressions on Instagram in Q2 2016 and were used mostly for Instagram game ads, shopping and entertainment apps. One in four ads on Instagram is a video.

You can see more stats about Instagram ad usage here.
7. Have Instagram influencers promote your app
Partnering and building relationships with relevant influencers can expose your mobile app to a much wider community of followers.

With marketing spend on influencer engagement set to reach

$7.5 billion by 2022

, endorsement by a credible influencer is a powerful way to draw attention.
Instagram influencers are people with a large following in a specific area, topic, or industry and who have a highly-engaged audience that trusts their opinion.
Finding the right one takes a bit of research, or possibly engaging an expert agency to find influencers that really match your brand. 
Agreements for app install marketing partnerships can vary from outright fees-per-mention, fees based on reaching a minimum target in sales or downloads, or simple co-operation in return for a cool product in your new collection. 
Tools like Ninja Outreach can also help you identify suitable influencers. Simply search for a keyword and sort by follower count.
The price of partnering with an influencer can vary wildly. Remember to do your due diligence and establish core success metrics, such as engagement, traffic, and reach, before agreeing on a project.
It's all about finding the right approach for your company, budget, and target audience. Influencer relationships tend to work better if you have clear expectations about what you want them to write and post; but the best influencers will have an idea of what works with their followers. 
Be open to their ideas.
At JMango360 we are experts at improving app install marketing results.
In addition to designing best-in-class e-commerce apps, we can also provide you with the right app marketing support.
Our team will fine-tune your app install marketing strategy, set-up and execute app marketing campaigns and improve App Store Optimization.
Plan a strategy call for a free app marketing consult or m-commerce advice.
Creating your own mobile commerce app is easy Let us show you what your app will look like